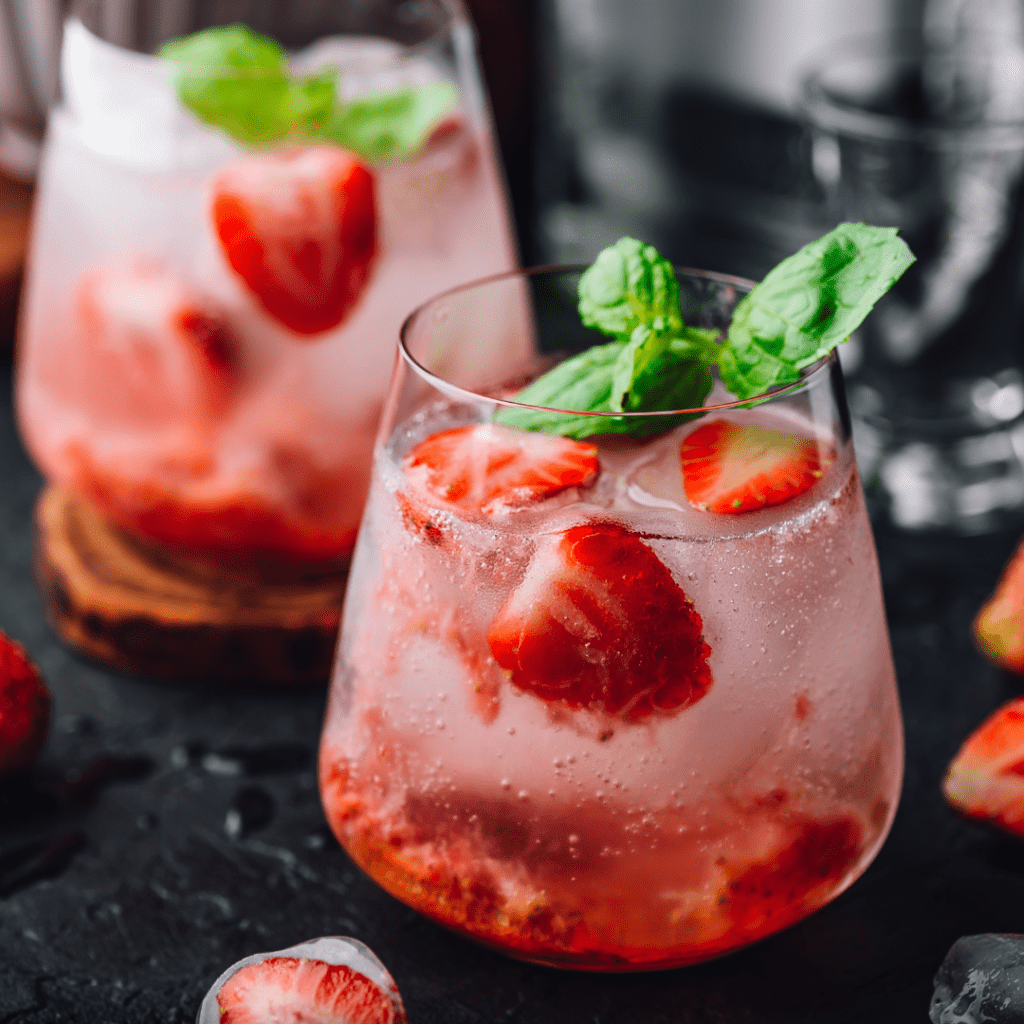 It's strawberry season! Celebrate with strawberry cocktails! Let's start with a Strawberry Fields fizz made with Grey Goose Essences Strawberry and Lemongrass: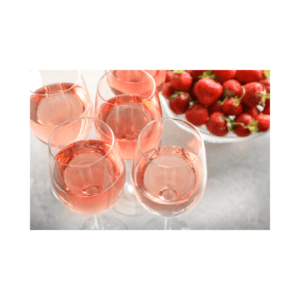 Strawberry Fields Cocktail
Ingredients
1 1/2

ounce

Grey Goose Essences Strawberry and Lemongrass

4 1/2

ounces

soda water

Martini and Rossi Sweet Vermouth

lemon wheel
Instructions
Rinse wine glass with Martini and Rossi sweet vermouth.

Pour Grey Goose Essences Strawberry and Lemongrass into prepared wine glass with cubed ice. Top with soda water. Stir.

Garnish with a lemon wheel.
Strawberry Mojito
Ingredients
3

large

strawberries, hulled, cut into fourths

1

lime, cut into wedges

1

ounce

simple syrup

8 – 10

fresh mint leaves

2

ounces

white rum

ice

4

ounces

chilled club soda

fresh mint sprig for garnish
Instructions
Add strawberries and lime wedges cut-side on top in a highball glass. Muddle until strawberries and lime wedges break down.

Place the mint leaves on top. Lightly muddle mint leaves. Just a few twists will do to prevent overbruising.

Pour in white rum and add a handful of ice. Stir.

Top with chilled club soda. Gently stir to combine.

Garnish with fresh mint sprig.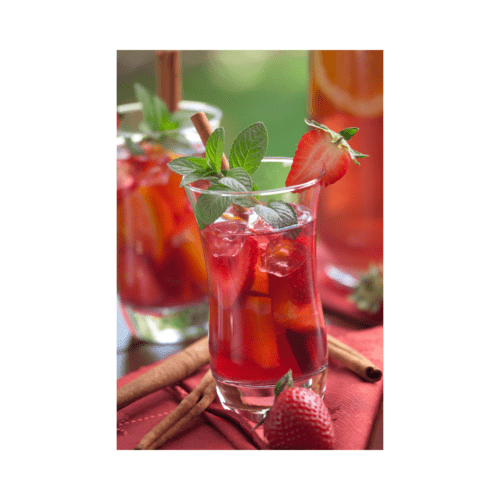 Strawberry Blackberry Sangria
Prepare sangria the day before serving to allow sangria to chill in refrigerator. Place sangria glasses in freezer the day of service to chill glasses.
Ingredients
1

pound

fresh strawberries, capped and cut into fourths

6

ounces

fresh blackberries

10

ounce (can)

Bacardi frozen strawberry daiquiri mix

5

ounces

blackberry brandy (fill frozen daiquiri mix can half full of brandy which will equal 5 ounces)

1

bottle

Rosé Vinho Verde wine

1

tablespoon + 2 teaspoons

simple syrup

1

33.8 ounce bottle

Lime Perrier sparkling water

Garnish: fresh strawberries and blackberries
Instructions
Make a day ahead to allow the sangria to chill and fruit flavors to meld.

Place the strawberries, blackberries, strawberry daiquiri mix, blackberry brandy, Rosé Vinho Verde and simple syrup together in a large pitcher. Mix lightly to combine ingredients.

Cover pitcher and place in refrigerator for 24 hours. When ready to serve, stir lightly before pouring into chilled glasses.

Pour lime Perrier sparkling water into chilled glass over ice until 1/3 full and then fill the rest of glass with strawberry blackberry sangria. (More or less sparkling water can be used to taste.) Stir very lightly. Dip a few of the berries out of pitcher and into each glass of sangria. Garnish with fresh strawberries and blackberries.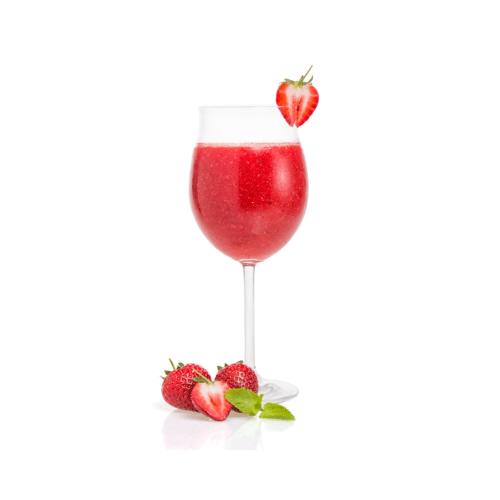 Sparkling Strawberry Shrub
This cocktail is best served over jumbo ice cubes. You can make jumbo ice cubes in a square or ball shaped ice cube mold in your freezer.
Ingredients
1

cup

strawberries, capped and chopped

1

cup

water

1 1/2

cups

extra fine sugar

available at Fresh Market

1/2

cup

rice wine vinegar

rosé sparkling wine

2

large ice cubes

Rosemary sprig or fresh mint sprig and strawberry for garnish
Instructions
Muddle the strawberries with a muddler or wooden spoon in a mason jar. Add water and sugar and stir to combine. After the sugar has begun to dissolve, add the rice wine vinegar and stir to combine all of the ingredients.

Cover and refrigerate. The shrub can be stored, tightly covered, in the refrigerator for up to one week.

To make the cocktail: Place one ounce strawberry shrub in a cocktail glass. Add ice cubes. Stir and top with rosé sparkiling wine and give it another little stir. Garnish with rosemary or mint sprig and fresh strawberry.