For some folks Super Bowl snacks are almost as important as the big game and the half time show. I like to make snacks that I can set out for my guests to enjoy, so I can watch the game instead of being tied to the kitchen all afternoon. Here's some of my favorite "set it and forget it" Super Bowl snacks: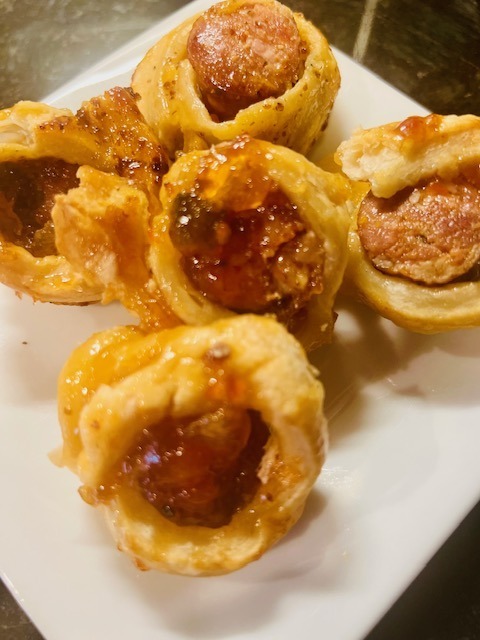 Hogs In A Blanket
Fancy pigs in a blanket with red pepper jelly. Requires 45 minutes to freeze sausage pastry rolls before cutting.
Ingredients
2

7 inch x 5 inch sheet

Dufour's Puff Pastry, thawed

2

Andouille sausages

4

tablespoons

red pepper jelly

2

tablespoons

Pommery mustard
Instructions
Preheat oven to 375 degrees Fahrenheit.

Spray 12 mini muffin cups with vegetable spray.

Place sheet of puff pastry on a cutting board.

Spread the pastry with red pepper jelly and then spread the mustard on top of the jelly.

Place one Andouille sausage on the top of the 5 inch side of the pastry. Roll the sausage so that the pastry covers it (with the ends open). Wrap lightly in foil and freeze for 45 minutes. Repeat with the second pastry sheet and sausage.

Remove sausage rolls from freezer, take out of foil and place on cutting board. Using a very sharp knife, cut each sausage roll into 6 even slices.

Place sausage rolls, cut side up in muffin tins. Press down to make the sausage rolls fit into the muffin tin.

Place baking sheet under the muffin tin to catch any jelly drips. Place in oven and bake for one hour. Watch carefully so that the jelly or pastry does not burn.

Remove from oven and allow to cool slightly before serving.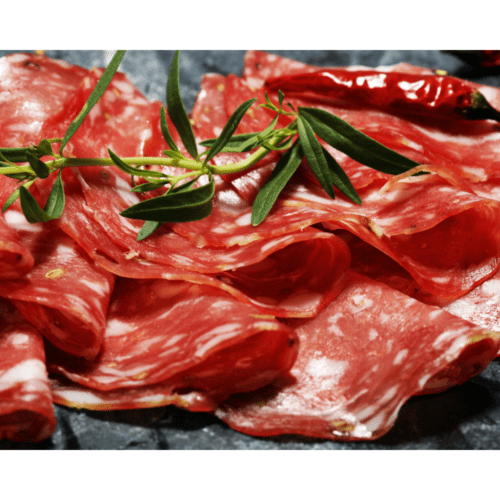 Baked Italian Salami with Pommery Mustard Sauce
Ingredients
16

thin slices

Italian Dry Salami

1/4

cup

mayonnaise

1/4

cup

Pommery (French grainy) mustard

available at Fresh Market or on-line
Instructions
Preheat oven to 375 degrees Fahrenheit.

Place a rack on a baking sheet. Place salami on rack.

Bake salami for 7 – 8 minutes. Watch carefully so it does not burn. Edges of salami should be crispy.

Place mayonnaise and mustard in a small bowl. Stir to combine.

Place baked salami on a serving plate and place mustard sauce in a small serving bowl for dipping.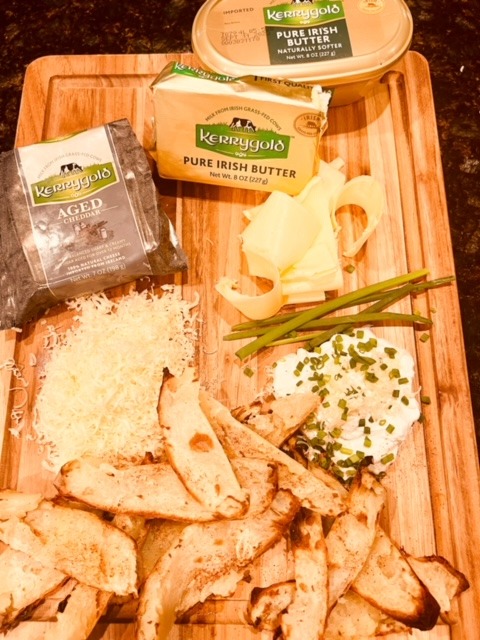 To make baked potato skins: Preheat oven to 400 degrees Fahrenheit. Wash russet potatoes. Wipe washed potatoes with a clean cloth to dry them.
Prick each potato several times with a fork. Place potatoes directly on oven rack. Bake potatoes for one hour or until tender. Remove potatoes from oven; cool slightly; cut in half lengthwise and scoop out pulp, leaving 1/4 in. shell. (Save removed potato pulp for another use.)
Cut skins into strips or halves; brush skin sides with butter and place on a baking sheet. Sprinkle pulp sides with salt.
Bake at 450° for 10-15 minutes or until skins are crisp.
To make crispy baked potato skins board:
Place crispy baked potato skins on a large wooden cutting board. Add toppings to the board:
Butter curls – use a vegetable peeler to make butter curls. I like to use Kerry Gold Butter (Irish butter) on my board.
Grated cheese – My favorite cheese for crispy potato skins is Kerry Gold Aged Cheddar.
Crisp crumbled bacon, finely chopped green onions, finely chopped baked ham, sour cream, finely chopped chives, salsa and finely chopped cilantro, chili, ranch dressing…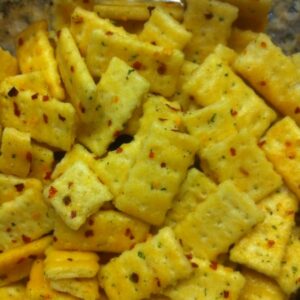 Spicy Fiesta Mini Club Crackers
Ingredients
11

ounces

mini club crackers

1/2

cup

vegetable oil

2

tablespoons

Hidden Valley Ranch Fiesta dip mix

1

tablespoon

crushed red pepper flakes

1/2

teaspoon

garlic powder

1/4

teaspoon

dried dill

1/8

teaspoon

ground cayenne pepper
Instructions
Whisk together oil, fiesta ranch dip mix, red pepper flakes, garlic powder, dill and cayenne.

Place mini club crackers in a plastic storage bag and add oil mixture. Seal the bag and shake, gently massaging the seasoning into the crackers.

Preheat oven to 250 degrees Fahrenheit. Allow the oil to soak into the crackers while the oven is preheating, turning the bag and shaking it several times.

Line baking pan with parchment paper or aluminum foil. Spread crackers evenly on the pan and bake for 10 – 15 minutes or until the crackers are lightly toasted.

Remove crackers from oven and allow to cool. Store at room temperature in a tightly sealed container.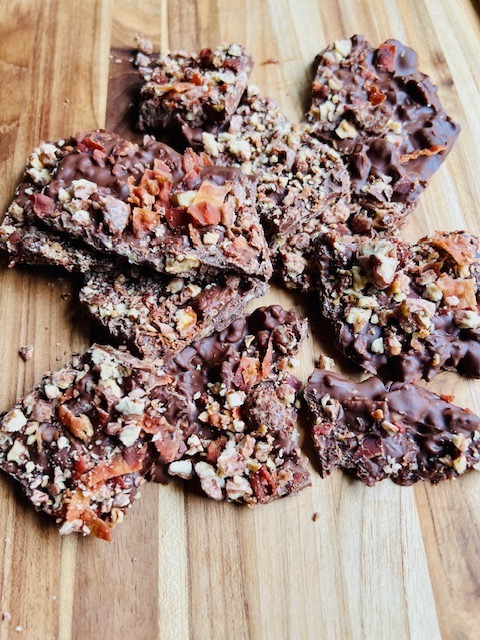 Spicy Chocolate Bacon Pecan Praline Bark
Equipment
9" x 13" baking pan

parchment paper and waxed paper
Ingredients
11.5

ounces

milk chocolate chips

14

slices

precooked bacon, cooked crisp in microwave or oven, crumbled

1

cup

praline pecans, crushed

Crush pecans by placing them in a plastic bag. Seal the bag and use the solid side of a meat mallet or sturdy rolling pin to crush the pecans.

1/4

teaspoon

ground cayenne pepper
Instructions
Place chocolate in a double boiler. Melt chocolate, stirring with a rubber spatula to make sure the chocolate is smooth.

Line the baking sheet with parchment paper. Wet the baking sheet in the corners before laying the parchment paper on the baking sheet, so that the parchment paper will lay flat.

When the chocolate is melted, add half of the crumbled bacon, half of the crushed praline pecans and cayenne pepper. Stir to combine.

Spread the chocolate mixture on the parchment paper on the baking sheet. Top evenly with crumbled bacon and crushed praline pecans.

Cover baking sheet with aluminum foil and refrigerate for one hour.

Remove baking sheet from refrigerator and take off foil. Use a sharp knife to cut the chocolate into pieces, using your hands to break apart the pieces.

Place a piece of waxed paper on the bottom of a storage container. Place the chocolates in one layer on the waxed paper (to keep the chocolate from sticking), then top with another piece of waxed paper. Continue layering chocolate pieces and waxed paper until all of the chocolate is packaged in the container. Cover with plastic wrap and aluminum foil.

Store chocolate bark in the refrigerator. Chocolate bark can be frozen (tightly covered and wrapped) in the freezer for up to 2 months.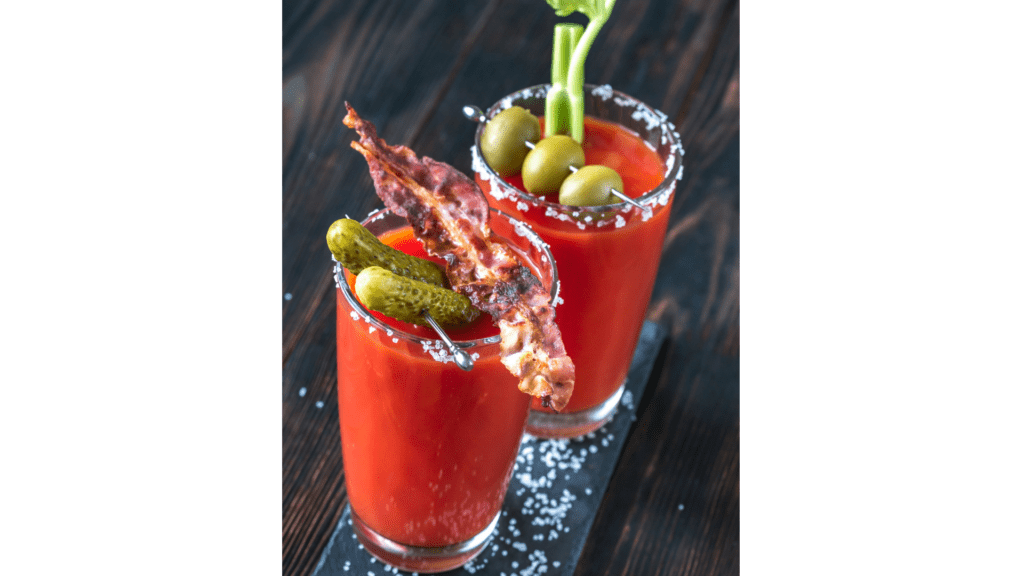 Celery sticks, olives, lemon and lime wedges, Shichimi Tograrashi (Japanese 7 Spice available at Asian markets) or smoked salt rim, crispy bacon, pickled okra, cornichons, cherry tomatoes, pickled green beans, pepperoncini peppers, dill pickle spear and cocktail shrimp.