If you enjoy cocktails that are not cloyingly sweet, you are going to love a shrub cocktail! Shrubs are made with three simple ingredients – fruit, vinegar and sugar. My favorite shrub is strawberry.
Shrub cocktails and mocktails were popular in the 19th century before refrigeration was readily available. Vinegar was poured over fruit to preserve it and allowed to sit for several days, then strained and the fruit was tossed away. The remaining fruit syrup was mixed with sugar or honey and topped with soda water to make mocktails or mixed with gin or vodka to make cocktails.
My Strawberry Basil Shrub Mocktail can easily be made into a cocktail by adding vodka or gin.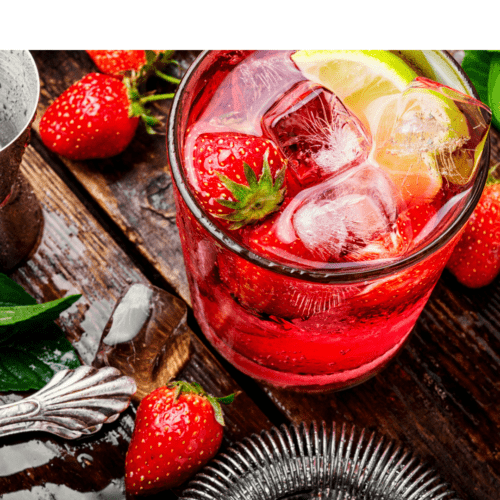 Strawberry Basil Shrub Mocktail
Ingredients
1

pint

fresh strawberries, hulled and sliced

reserve 4 strawberries for cocktail garnish

3

tablespoons

sugar

2

tablespoons

white balsamic vinegar

12

fresh basil leaves

reserve 4 fresh basil leaves for cocktail garnish

ice

Italian sparkling water

I like Pellegrino sparkling water for this recipe
Instructions
Place strawberries, sugar and white balsamic vinegar in blender container. Blend on medium-high speed until strawberries are pureed.

Add ice to fill blender container. Blend on medium-high speed until ice is crushed and strawberry mixture is smooth and slushly. Cover blender container and place in freezer until ready to make mocktails.

Place 2 fresh basil leaves in each cocktail glass. Muddle basil leaves. Spoon strawberry mixture evenly into each glass. Top with Italian sparkling water. Give each mocktail a little stir with a long handled spoon. Garnish mocktails with a strawberry and a fresh basil leaf.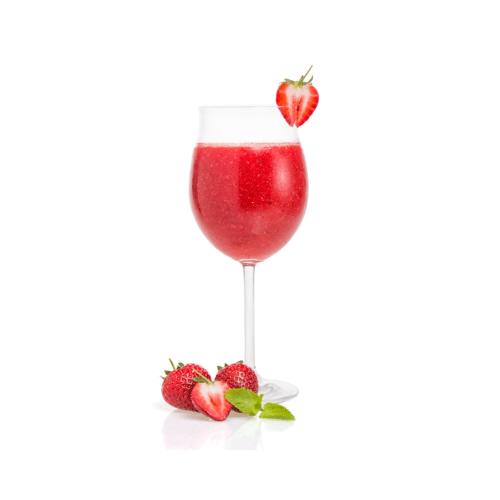 Sparkling Strawberry Shrub
This cocktail is best served over jumbo ice cubes. You can make jumbo ice cubes in a square or ball shaped ice cube mold in your freezer.
Ingredients
1

cup

strawberries, capped and chopped

1

cup

water

1 1/2

cups

extra fine sugar

available at Fresh Market

1/2

cup

rice wine vinegar

rosé sparkling wine

2

large ice cubes

Rosemary sprig or fresh mint sprig and strawberry for garnish
Instructions
Muddle the strawberries with a muddler or wooden spoon in a mason jar. Add water and sugar and stir to combine. After the sugar has begun to dissolve, add the rice wine vinegar and stir to combine all of the ingredients.

Cover and refrigerate. The shrub can be stored, tightly covered, in the refrigerator for up to one week.

To make the cocktail: Place one ounce strawberry shrub in a cocktail glass. Add ice cubes. Stir and top with rosé sparkiling wine and give it another little stir. Garnish with rosemary or mint sprig and fresh strawberry.