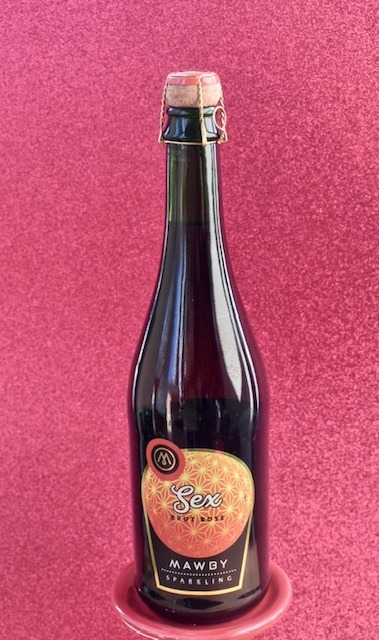 Just for fun, how about a bottle of Sex for Valentine's Day? Yep, you heard me right…Sex. Sex is produced by the Mawbry Winery in Michigan.  This bubbly reminds me of Michigan State cherries…a hint of cherry in the wine, but not so  much as to make it sweet or overly cherry tasting, just a touch to make it pretty pink, fresh and lively along with the crisp apple notes. $18 range.
Here's the story about the origin of the name "Sex"…In the 1980's Larry Mawby, owner of the Mawby winery was "fretting around for names for certain things."
In that day, the trick was getting names and images for wine labels approved by the somewhat "prudish" Bureau of Alcohol, Tobacco, and Firearms. The Bureau was known for being very picky about certain things.
That's why when Mawby was approved by the bureau for the name "Sex," he "almost fell out of his chair."
"He wanted to see if he could tweak the Bureau of Alcohol, Tobacco and Firearms with something odd. "So he applied for a label with the name 'Sex.' He had no use for it. He wasn't going to do anything with it. He just thought it'd be fun to do it." https://www.michiganradio.org/post/michigans-sexy-sparkling-wine-has-interesting-history
You can find Sex bubbly locally at Gladheart Wines and Brews or on-line.
Our dear friends Judy and Bill recently enjoyed a visit to their home state (Michigan) where they visited the Mawby Winery. They sent these fabulous photos: