These are the perfect one bite appetizers to serve with champagne before dinner.
I like to use frozen Dufour puff pastry for my appetizers because it is made with butter. I used to use Pepperidge Farm puff pastry, but I recently found out that it is made with vegetable oil, not butter as a main ingredient. The Dufour has a much richer buttery taste.
These lovely little bites of yumminess can be made up to two hours ahead of time so they are ready when your guests arrive.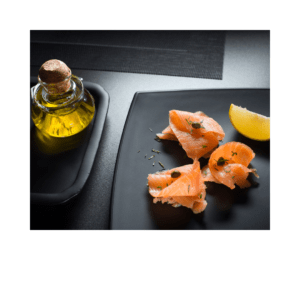 One Bite Puff Pastry Appetizers – Smoked Salmon Bites and Basil Pesto Tomato Bites
the perfect little one bite appetizers to serve with champagne
Equipment
1 1 1/2 inch cookie cutter

parchment paper
Ingredients
1

sheet

frozen Dufour puff pastry, thawed

3/4 cup

whipped cream cheese

2

tablespoons

finely chopped fresh dill + dill sprigs for garnish

2

tablespoons

finely chopped red onion

2

tablespoons

non-peril capers

40

small pieces

smoked salmon

1/4

cup

basil pesto

10

slices

cherry tomato

10

small fresh basil leaves for garnish
Instructions
Preheat oven to 400 degrees Fahrenheit.

Place parchment paper on a baking sheet. (Wet around the inside corners of the baking sheet so the parchment paper will lay flat on the sheet.)

Cut 20 circles or squares out of puff pastry sheet with a 1 1/2 inch cookie cutter. Place puff pastry cutouts on parchment paper lined baking tray.

Bake puff pastry cutouts for approximately 10 – 12 minutes or until they are lightly browned. Remove from oven and press each cutout lightly with a fork. Allow to cool.

In a small bowl, combine whipped cream cheese, finely chopped dill, red onion and capers.

Place a heaping 1/2 teaspoon of the cream cheese mixture on top of half of the puff pastry cutouts. Top with a couple of pieces of smoked salmon. Garnish with a sprig of fresh dill.

Place approximately 1/2 teaspoon of basil pesto on the remaining puff pastry cutouts and top with a slice of cherry tomato. Garnish with small fresh basil leaves.

Place puff pastry cutouts on a serving dish. Puff pastry bites can be made 2 hours ahead of time. Cover and place in refrigerator until service.