I love Boursin cheese! All of the fabulous flavors: classic garlic and herb, fig and balsamic, shallot and chive, black pepper and many seasonal varieties. Here's how this lovely cheese came to be…from the boursin.com website:
The story of the now famous Boursin Cheese started with one man, François Boursin. In 1957, this young Normandy cheesemaker opened a cheese factory in Croisy-sur-Eure, a small community nestled in northern France.
François worked quietly for years trying to perfect his signature cheese. However, in 1961 a French newspaper mistakenly reported the launch of Boursin infused with garlic, and the public loved the idea. The problem was that François had no such recipe in the works, but he quickly got to work to meet the public's demand. For two years, he worked on his own original recipe inspired by fromage frais, a traditional party dish blended that blends garlic, fresh cream, soft cheese, herbs, salt and pepper.
Finally, in 1963, François was satisfied with his authentic Gournay cheese and garlic creation, and he introduced it to the world. Boursin Garlic & Fine Herbs Cheese was served at celebrations and gatherings throughout France, and it quickly became a household name.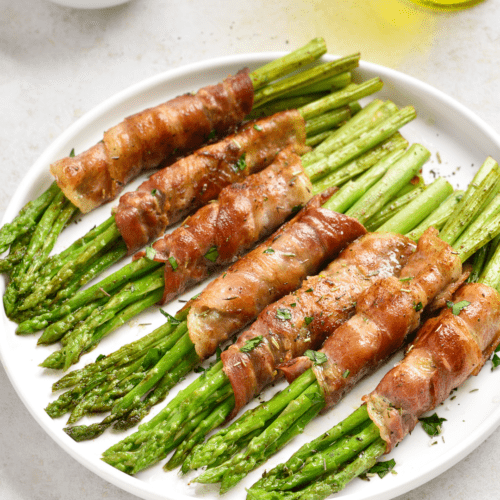 Asparagus Appetizer with Boursin and Crispy Prosciutto
Ingredients
12

slices

prosciutto, each slice cut into thirds

36

asparagus spears, washed and tough ends removed

1

package

Boursin cheese

1/4

tsp

salt

1/2

tsp

black pepper

3

tsp

lemon olive oil

3

tsp

fresh lemon juice

Toasted pine nuts
Instructions
Preheat the oven to 350 degrees.

Toss the asparagus with olive oil and season with salt &pepper.

Spread 1/2 to 1 teaspoon of Boursin on a slice of prosciutto. Wrap

the prosciutto around the middle of each asparagus spear. Once all

the spears have been wrapped, place them on a baking sheet and bake

for 10 minutes.

Remove from oven and allow to cool. Cover and chill in refrigerator. When ready to serve, drizzle with fresh lemon juice and sprinkle with toasted pine nuts.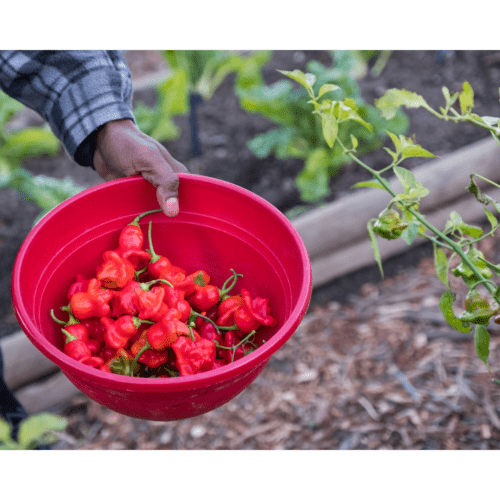 Peppadew Peppers stuffed with Boursin Cheese and Pancetta
These little pops of pepper are super spicy!
Ingredients
8

Peppadew Peppers, cut in half

Find peppadew peppers in jars in the pickle/olive section at the grocery.

4

slices

pancetta, baked until crisp and crumbled

Boursin garlic and herb cheese
Instructions
Place as much pancetta into the peppers as possible and top with Boursin. Press Boursin into pepper with the back of a spoon.

Place stuffed peppers on a serving plate. Cover and refrigerate until service. Serve very well chilled.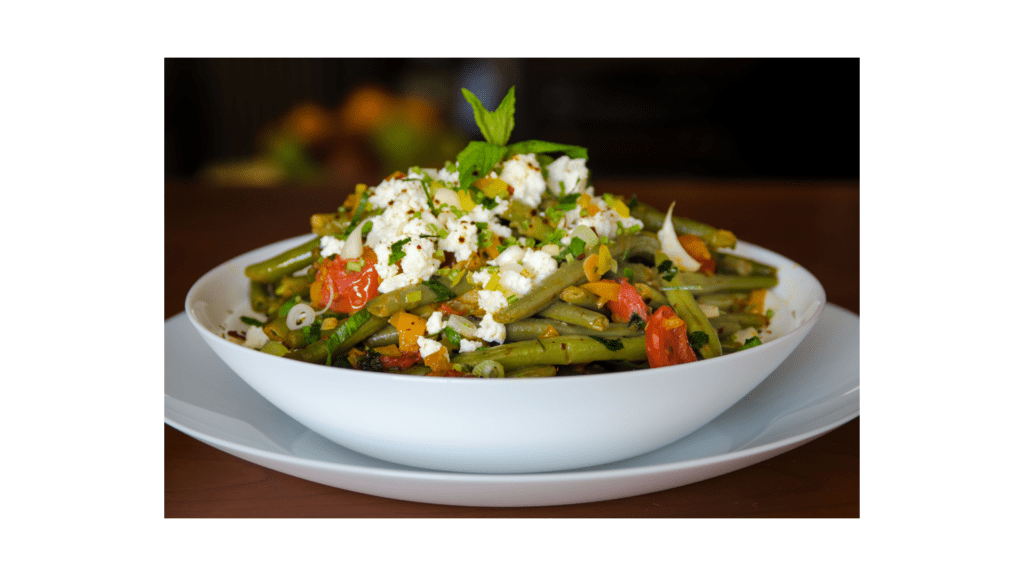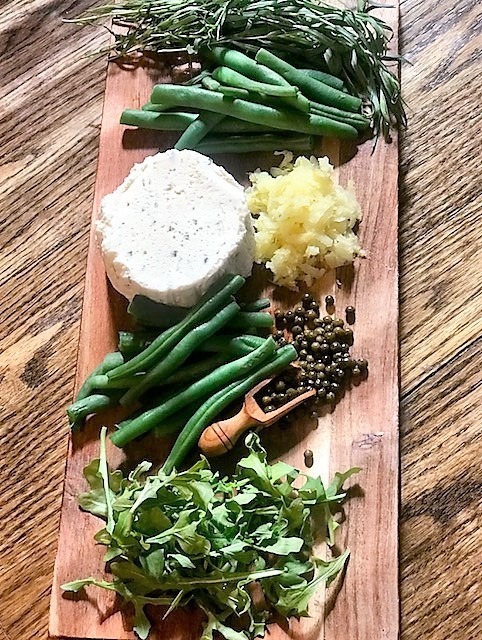 Green Peppercorn Boursin Green Bean Salad
Ingredients
1

pound

fresh green beans, stems removed, cut in half

1

tsp

green peppercorns (packed in brine), crushed with mortar and pestle

5.2

ounces

Shallot and chive Boursin cheese

1/4

cup

finely chopped fresh tarragon

1

tsp

grated fresh frozen lemon

Place a washed lemon in the freezer section of  your refrigerator. Once the lemon is frozen, get  your grater, and shred the whole lemon (no need  to peel it) and sprinkle it on top of your  foods.  The lemon seeds catch on the grater so there is no need to worry about seeds getting into your grated lemon.

1/8

tsp

salt
Instructions
Fill medium size stockpot half way full of water. Bring water to a boil.  Add green beans and cook until crisp tender (do not undercook or overcook the green beans) 8 – 10 minutes.  Immediately drain the water off the green beans and "shock" them by dropping them in  ice water so that they will stop cooking. Quickly remove them from the ice water and pat dry.

Place the beans in a salad bowl and mix in the Boursin cheese.  Add the mashed green peppercorns, tarragon, grated frozen lemon and salt.  Stir with large spoon to combine all of the ingredients.  The Boursin will become creamy and will coat the green beans.  Cover the green bean salad and place in refrigerator until service.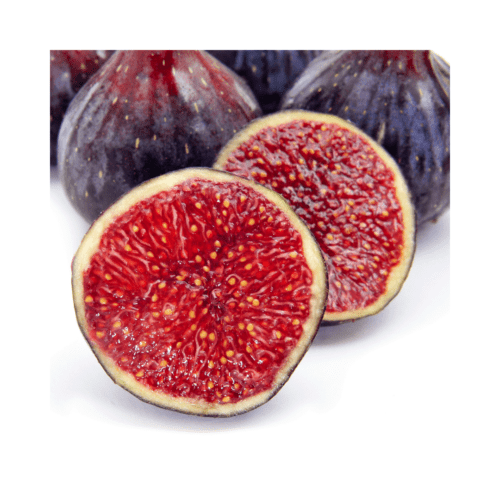 Fig Balsamic Cheese Spread
Ingredients
5.2

ounce package

Boursin Fig and Balsamic Cheese

2

TB

fig jam (or spread)

2

ounces

cream cheese, softened

3

green onions, white part and half of greenpart, sliced very thinly

2.25

ounces

pine nuts

1/2

TB

butter

chopped fresh figs or dried figs, for garnish

Fine Cheese Company Lemon Sea Salt Extra Virgin Olive Oil Crackers

available locally at Fresh Market or on-line
Instructions
Place Boursin Fig and Balsamic Cheese, fig jam and cream cheese in a small mixing bowl. Mix with a rubber spatula until smooth. Add green onions and mix.

Melt butter in a sauté pan. Add pine nuts and stir over low heat until pine nuts are lightly browned. Remove from heat and allow to cool.

Place cheese mixture in a decorative serving bowl. Top with toasted pine nuts. Garnish with chopped fresh figs(optional).  Place in refrigerator for 1 hour to chill.  Serve with Lemon Sea Salt Crackers.