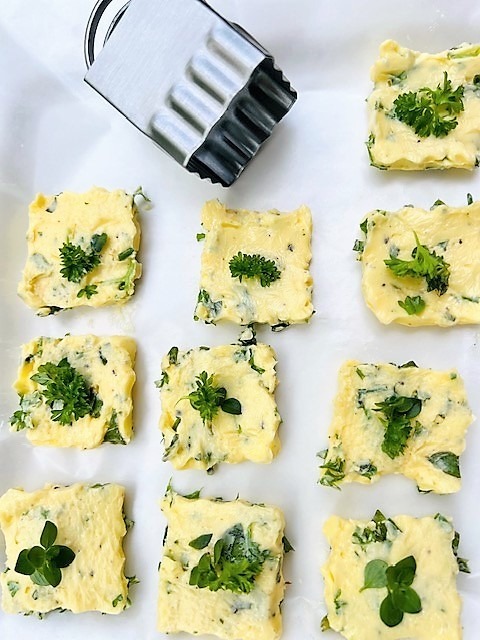 My mom, herbalist and cook extraordinaire, made herb butter with fresh herbs from her garden. She always had herb butter pats in her freezer so she could pull them out at the last minute to serve with crusty French bread with dinner. I make my fresh herb butter with my favorite Kerrygold Butter. Kerrygold is Irish butter made from grass-fed cows with a rich, luscious, buttery taste. Kerrygold spreadable butter makes mixing my herb butter so easy.
I recently found some of the cutest ripple edge biscuit cutters at Ladles and Linens Kitchen Shoppe, downtown Roanoke. They are the perfect cutter to cut herb butter pats!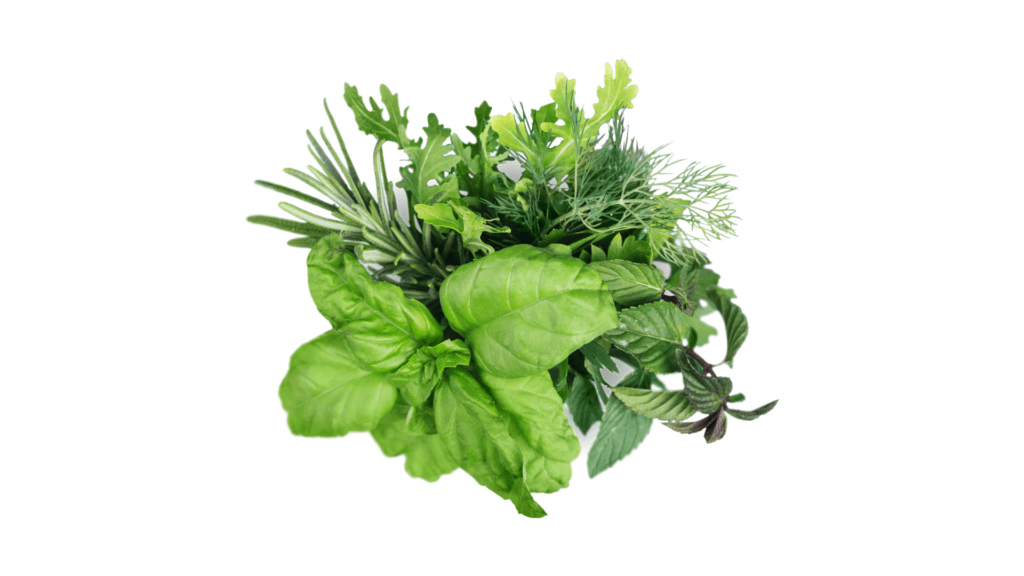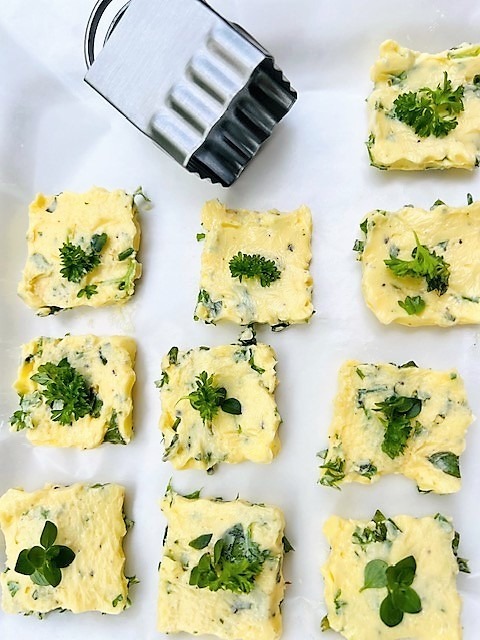 Fresh Herb Butter
Equipment
1 1 1/2 inch square rippled biscuit cutter

1 Rolling Pin

waxed paper
Ingredients
8

ounces

Kerrygold Spreadable Butter

6

fresh chives, snipped

2

TB

finely chopped oregano

2

TB

finely chopped basil

2

TB

finely chopped parsley

1/8

tsp

garlic powder

1/8

tsp

salt

1/8

tsp

freshly ground black pepper

20

thyme leaf bunches

20

small sprigs parsley
Instructions
Place butter in mixing bowl.

Add chives, chopped oregano, basil and parsley, garlic powder, salt and pepper to butter. Mix with a rubber spatula until all ingredients are combined.

Place one sheet waxed paper on kitchen counter. Place herb butter on top of waxed paper. Place another sheet of waxed paper on top of butter.

Press down on top waxed paper with palm of your hand to flatten butter a bit. Roll butter flat (to approximately 1/2" thickness) with rolling pin (roll rolling pin on top of waxed paper to flatten butter).

Place a sheet of waxed paper on each of 2 dinner plates.

Remove top waxed paper sheet and cut butter into rippled edge squares with 1 1/2" rippled square biscuit cutter. As you cut each square, place it on waxed paper on dinner plate. To remove butter pat from biscuit cutter, press down on butter gently with your fingers through the inside of the biscuit cutter (from the top of the biscuit cutter).

Garnish the herb butter pats with a small thyme leaf bunch and a very small sprig of parsley.

Tightly cover the herb butter pats with plastic wrap (this will help the herb butter to not absorb any other aromas from foods in the freezer). Freeze herb butter pats until ready for service.