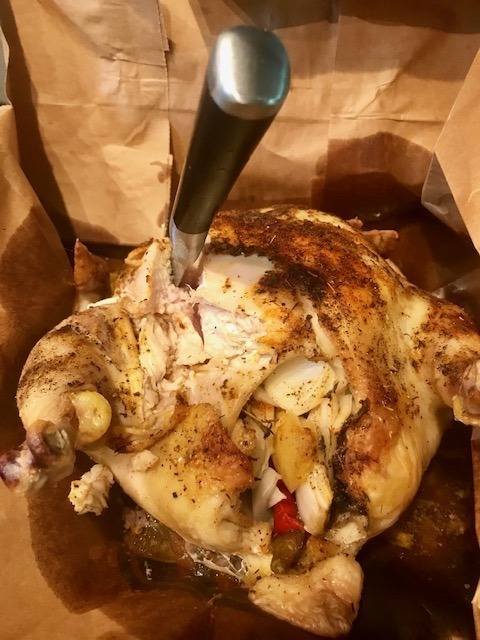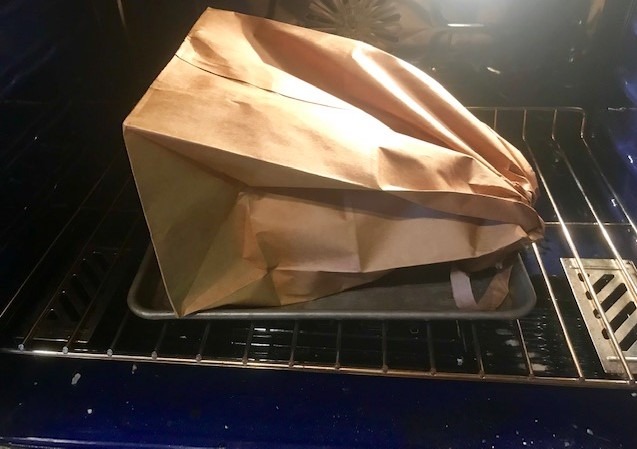 Would you like to serve a tender, juicy, delicious roast chicken for dinner tonight? Here's the secret…roast your chicken in a brown paper bag! My friend that shared this recipe with me told me that it is half recipe/half science experiment since it does not seem to make logical sense…but the bag does not catch fire and seals in the juices to make a fabulous tasting roast chicken!
And this paper bag method encloses all of the chicken juices so they do not splatter all over your oven.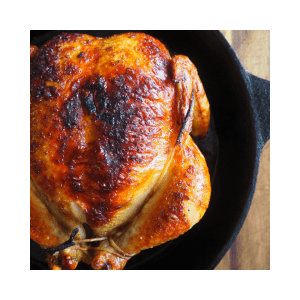 Chicken Roasted In A Brown Paper Bag
Equipment
1 large (grocery bag size) brown paper bag

1 roasting pan
Ingredients
5

pound

whole chicken, giblets removed

1

tablespoon

butter

1

teaspoon

salt

1

teaspoon

black pepper

1

teaspoon

Chef Paul Prudhomme's Poultry Magic Seasoning

1

teaspoon

salt

1

teaspoon

black pepper

4

sprigs

fresh rosemary

4

large sprigs

fresh oregano

1

bunch

fresh thyme

8

fresh basil leaves

1/2

onion, cut into quarters

1

preserved lemon, cut into quarters (if using Les Moulins Mahjoub brand, also add one of the red peppers from the jar.
Instructions
Preheat oven to 400 degrees Fahrenheit.

Rub the outside of the chicken with 1 tablespoon butter.

Sprinkle the outside of the chicken with 1 teaspoon salt and 1 teaspoon black pepper and 1 teaspoon Poultry Magic seasoning.

Sprinkle inside of chicken with 1 teaspoon salt and 1 teaspoon black pepper. Stuff inside of chicken with rosemary, oregano, thyme, basil, onion and preserved lemon.

Lay a brown paper grocery bag on its side. Place chicken inside the bag and tie with kitchen twine to enclose. Place bagged chicken on a roasting pan or rimmed baking tray. Place oven rack in lower third of oven. Place chicken in bag on roasting pan on the oven rack making sure that there is plenty of room between the bag and the top inside of the oven.

Roast chicken for 1 1/2 hours.

Remove chicken from oven and carefully open bag to release steam. An instant-read thermometer inserted into the thickest part of the chicken thigh should reach 165 degrees Fahrenheit and juices should run clear when thigh is pierced with the tip of a sharp knife. Let stand for 10 minutes before carving; serve warm.