The watermelon we loved as children is all grown up – enjoy my adult watermelon recipes!
Here's a fun quick way to serve watermelon: Raspados (Shaved Ice popular in Mexico). Freeze watermelon chunks (seeds removed) in a sealed plastic bag. Blend frozen chunks in blender. Add just a little lemon juice and agave syrup. For the adults: add some vodka.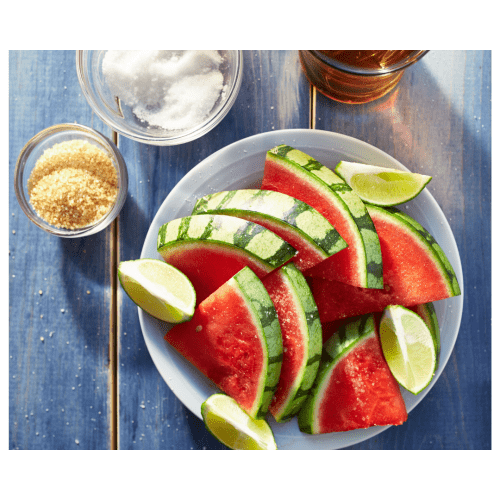 Margarita Watermelon Wedges
Place salad plates and salad forks or spoons in freezer to chill while preparing watermelon.
Ingredients
2

1 inch slices

watermelon

2

tablespoons

lime juice

3

tablespoons

tequila blanco

3

tablespoons

sugar

1/4

teaspoon

salt
Instructions
Cut each watermelon slice into 6 wedges.

Place wedges in a flat food storage container.

Combine lime juice, tequila, sugar and salt in a small bowl. Mix well to combine all ingredients.

Pour lime juice mixture over the watermelon slices.

Cover container tightly and refrigerate for one hour. Turn container over and shake container lightly to cover the watermelon with lime mixture. Continue to refrigerate for one more hour. Place 3 watermelon wedges on each chilled plate. Serve very cold.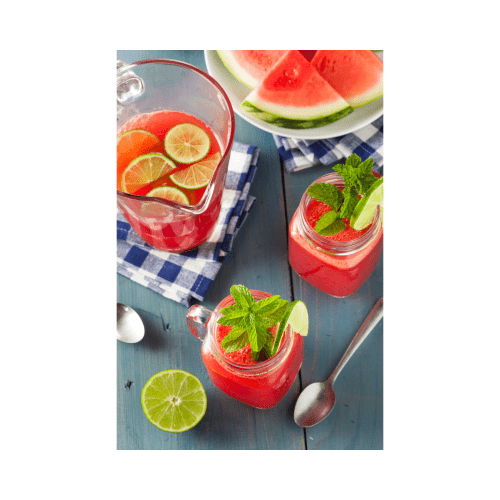 Tequila Watermelon Aguas Frescas with Prosecco
Aguas Frescas are light non-alcholic beverages (alcohol can be added) made from fruits, flowers or seeds, blended with sugar and water. They are popular in Mexico and parts of the Southwest United States.
Equipment
1 Blender or food processor
Ingredients
1/2

cup

water

1/2

cup

sugar

1

chilled seedless watermelon, – about 15 pounds, rind discarded and watermelon cubed (about 20 cups)

3/4

cup

tequila blanco

6

limes, thinly sliced

3

spearmint sprigs, plus mint leaves for garnish

1/2

cup

water

ice

1

bottle

chilled prosecco
Instructions
In a small saucepan, combine the water and sugar and bring to a boil, stirring until the sugar is completely dissolved. Transfer the simple syrup to a heatproof bowl and let cool.

In a food processor or blender, puree the watermelon in batches until smooth. Strain the puree into a large bowl or pitcher. Stir in the simple syrup, tequila, lime slices, 3 sprigs spearmint and 1/2 cup water.

To serve, pour the watermelon agua fresca into ice-filled glasses, leaving 1 inch at the top. Top off the drinks with Prosecco and garnish with mint leaves.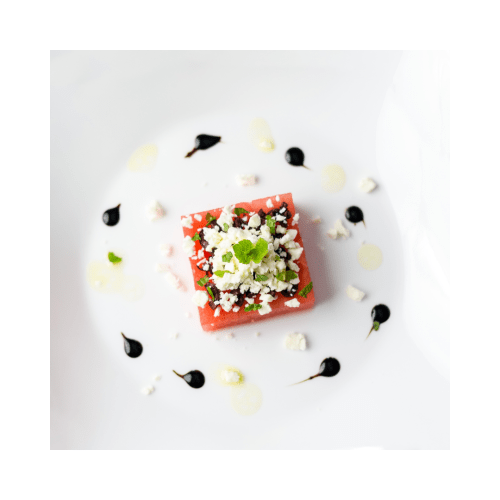 Watermelon Feta Salad
Ingredients
4

ounces

feta

1/4

cup

toasted pine nuts

4

tablespoons

balsamic glaze

2

tablespoons

extra virgin olive oil

Freshly ground black pepper

Fresh spearmint sprigs for garnish
Instructions
Chill glass or china plates and salad forks in the freezer prior to making the salad.

Cut watermelon into 1 1/2 inch slices. Using a 2 inch cookie cutter, cut rounds out of the watermelon slices.

Place 2 watermelon rounds on each chilled salad plate and crumble over the feta, then sprinkle toasted pine nuts over the feta.

Drizzle over balsamic glaze, olive oil and season to taste with freshly ground black pepper. Garnish with spearmint sprig. Serve immediately.