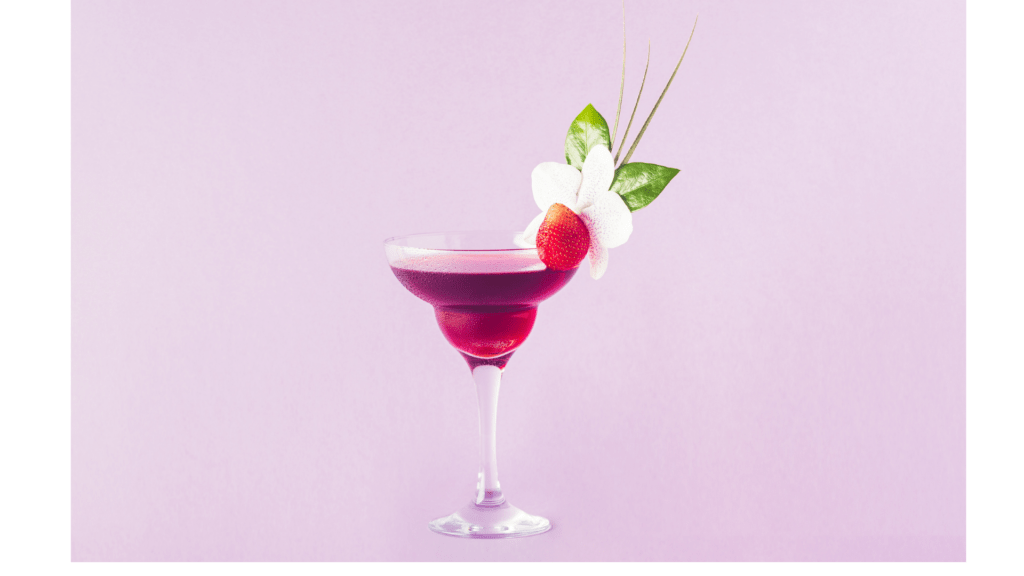 To help your guests who are refraining from alcohol feel more at ease, make your mocktails as much fun as your cocktails. These are my favorite ways to dress up my mocktails:
FANCIFUL ICE CUBES: Freeze colorful fresh fruit (strawberries, raspberries, mandarin orange segments) in ice cube trays with clear soda or diet soda (ginger ale, Sprite, 7-Up). As the fruit ice cubes melt, they won't dilute your mocktial. Herb frozen cubes are also fun to add to mocktails. Add fresh herbs such as spearmint, basil or rosemary to clear soda or diet soda to make your herb frozen cubes. Edible flowers make pretty colorful ice cubes too – try growing nasturtiums in your garden this summer and add the flowers to your ice cubes.
MINT: I've found that peppermint is too strong of a flavor for my cocktails. I much prefer spearmint. Spearmint is easy to grow in your garden, so I strongly encourage you to do so. I use peppermint during the winter months because it is the only fresh mint I can find at the market. Have fun growing different flavors of mint – chocolate, apple, pineapple mints, in your garden too. One of my favorites is a variegated pineapple mint with the prettiest green and white leaves – with some perfectly white leaves too…it's a stunner!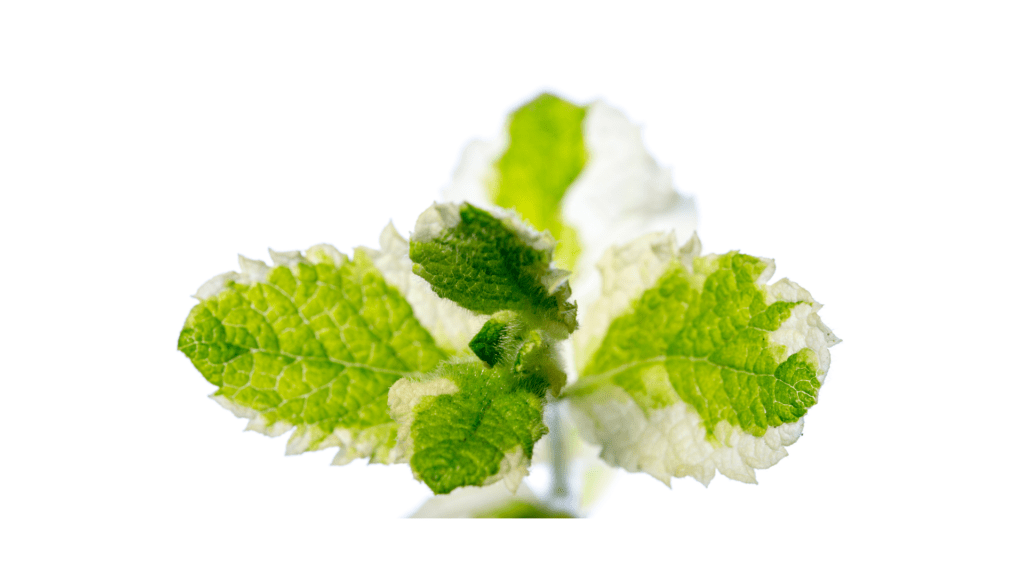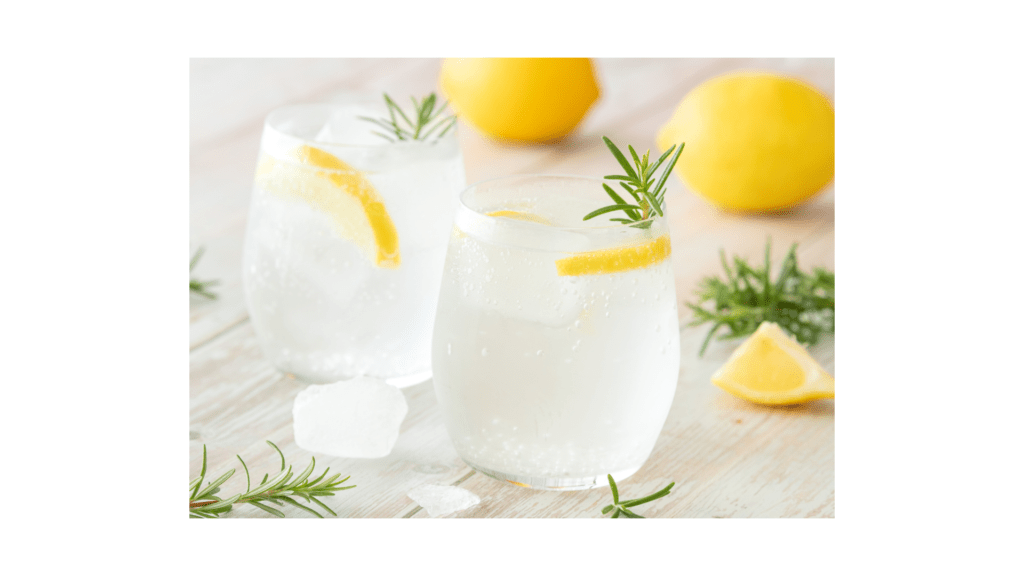 FLAVORFUL COCKTAIL SYRUPS: Use flavorful cocktail syrups to make mocktails. Crescent Simples makes fabulous cocktail syrups that are a flavorful addition to ginger ale or other clear sodas. I especially enjoy their Strawberry Basil cocktail syrup mixed with ginger ale. Locally you can find Crescent Simples at Ladles and Linens Kitchen Shoppe or on the Ladles and Linens website. On the Crescent Simples blog you can find a spicy mocktail recipe using their Lime Jalapeño Crescent Simples cocktail syrup, Ginger MOTHER shrub, lime juice and soda water.
Here's one of my favorite mocktail recipes that combines the flavors of elderflower, lemon and pomegranate: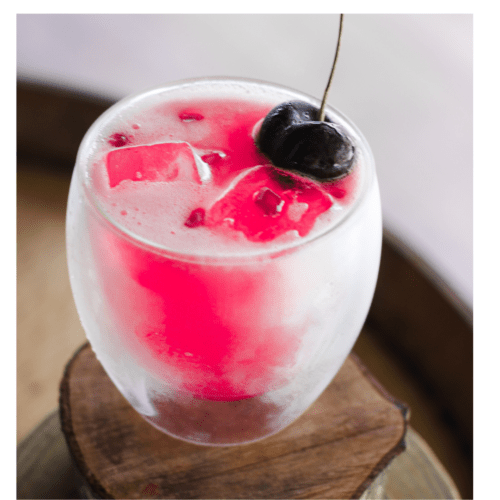 Mocktail Elderflower Rosé Fizz
Flavors of elderflower and lemon with a splash of pomegranate
Ingredients
3

ounces

Belvoir Fruit Farms Elderflower and Rosé Lemonade, chilled

Available locally at Fresh Market

3

ounces

ginger ale, chilled

Splash

pomegranate juice, chilled

1

cocktail cherry with stem for garnish
Instructions
Place lemonade in champagne flute. Top with ginger ale. Add splash of pomegranate juice. Garnish with cocktail cherry.
JAMS AND PRESERVES: Muddle seedless raspberry or strawberry jam, peach or apricot preserves with real fruit to add a sweet fruity flavor to your mocktails.
Cheers to this mocktail recipe from our friends at Fresca … just in time for the Kentucky Derby this weekend. Try adding a tablespoon of peach preserves muddled with the mint.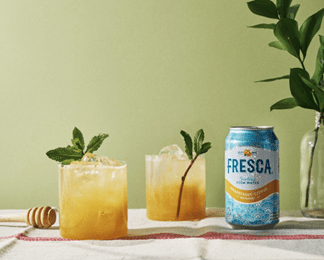 Mint and Peach Julep
Ingredients
Handful

fresh mint leaves

Handful

ice cubes

3

ounces

peach juice

1

tsp

honey

2

ounces

Citrus Fresca

1

fresh mint sprig
Instructions
Add a handful of mint leaves to the bottom of a cocktail shaker, crush using a muddler or a wooden spoon to extract the flavor.

Add a big handful of ice to the shaker along with the peach juice and honey.

Shake vigorously for 30 seconds, then strain into a tumbler filled with ice, top up with Fresca and garnish with a sprig of mint.
ZERO PROOF SPIRITS: There are several zero proof spirits (taste remarkably like vodka and gin) and beers on the market today and due to high demand more brands are entering the marketplace every day. Check with your local wine and beer stores to see what brands they carry. One of my favorite non-alcoholic wines is TÖST ROSÉ. TÖST ROSÉ is an all-natural, delicious, dry, sparkling, alcohol-free beverage with white tea, ginger and elderberry. I found it at our local Fresh Market and it is also available on-line.
ADD FIZZ: Fizzy waters and sodas add some effervescence to mocktails. I especially enjoy Orangina, a mixture of real citrus juices, pulp from mandarin oranges and fine bubbles. Makes a delightful mock mimosa with ginger ale. Add a little blood orange juice and a garnish of blood orange wedge to make a fun colorful mimosa. Bubly sparkling water (lime is my favorite) is a fun fizzy addition to mocktails (less expensive than the other brand name sparkling waters too!). Visit the Bubly website to find lots of mocktail recipes including the "Porch Party" mocktail that combines peach juice, ginger beer and white peach ginger Bubly sparkling water. La Croix sparkling water just released three new flavors: Beach Plum, Black Razzberry and Guava São Paulo. You'll find lots of beachy summer mocktails on their website.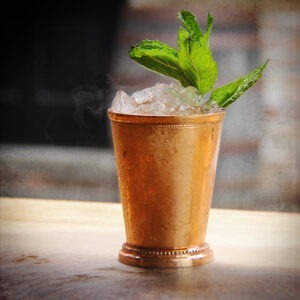 Mint Julep Mocktail
Ingredients
1/4

cup

water

1/4

cup

sugar

1

TB

chopped fresh spearmint

2

cups

crushed ice

1/2

cup

lemonade

spearmint sprigs and lemon wedges for garnish
Instructions
Place Jefferson cups (traditional mint julep cups) or rocks cocktail glasses in freezer to chill while preparing cocktails.

In a small saucepan, combine the water, sugar and 1 tablespoon chopped spearmint. Stir and bring to a boil. Simmer over medium low heat until sugar has dissolved. Remove from heat and allow to cool for one hour. Pour sugar syrup through a fine mesh strainer into a bowl. Discard spearmint leaves.

Fill chilled cups with crushed ice. Pour 1/2 of the lemonade into each glass and top iwth a splash of sugar syrup. Garnish with spearmint sprig and lemon wedge and a short straw.