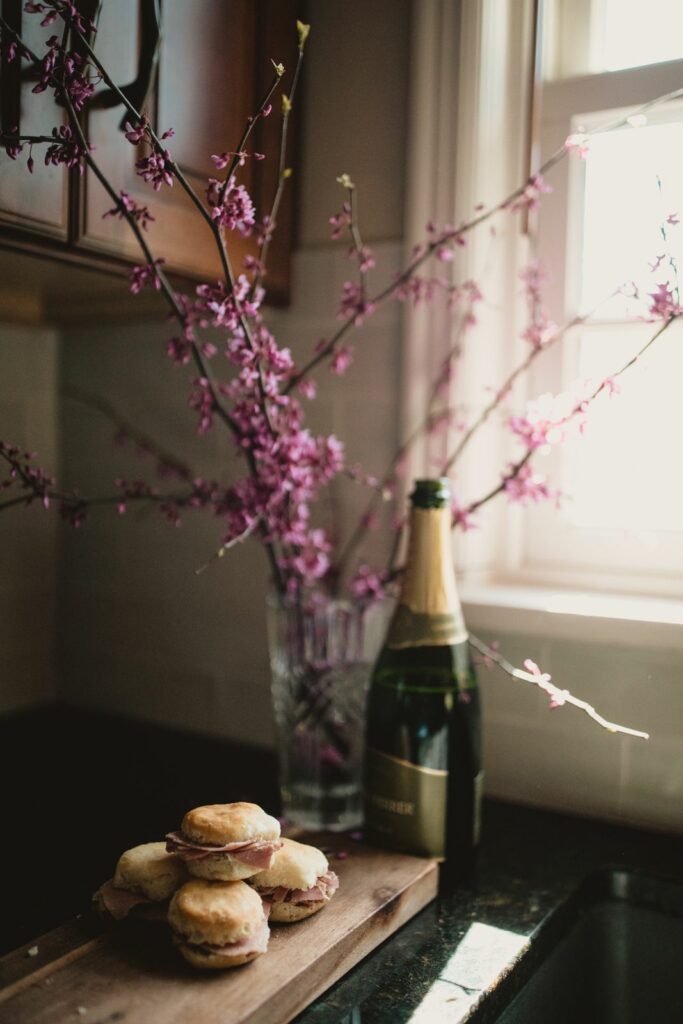 With the holidays fast approaching, it's a good idea to have several "go to" appetizers ready to serve your guests. One of my favorites is ham biscuits because everyone loves them! (Plus they are delicious served with champagne or hard apple cider.)
The traditional ham biscuit is a tiny biscuit (1 1/2 inch) with butter on one side and grainy mustard on the other, filled with shaved Smithfield ham. My biscuits freeze well, so you can make them ahead of time and thaw them to fill with ham before your guests arrive.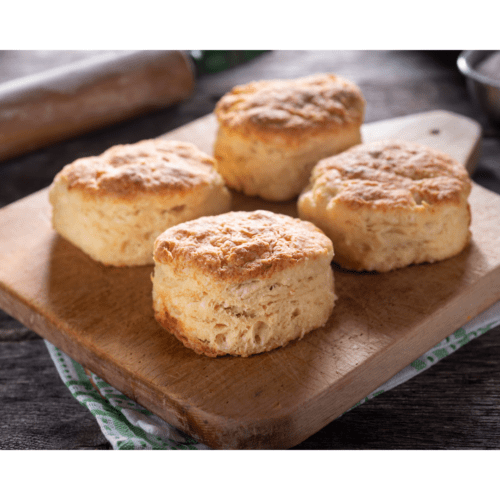 Buttermilk Cream Biscuits
Tiny flaky biscuits perfect to fill with Smithfield ham
Equipment
1 1 1/2 inch biscuit cutter (round or square)
Ingredients
1

cups

all-purpose flour

2

teaspoons

baking powder

1/4

teaspoons

baking soda

1

teaspoon

salt

7

tablespoons

butter, cut into small cubes

1/2

cup

cold buttermilk

1/4

cup + 6 tablespoons

cold heavy whipping cream

3

tablespoons

melted butter (to top biscuits before baking)
Instructions
Preheat oven to 425 degrees Fahrenheit. Line a baking sheet with parchment paper.

Whisk flour, baking powder, baking soda and salt together in a large bowl. Add butter and cut into the flour with a pastry blender or two knives until the mixture resembles coarse crumbs (butter will be the size of tiny peas).

Make a well in the center of mixture. Pour cold buttermilk and cold whipping cream into the well and stir gently until just combined.

Turn dough onto a floured work surface and pat it together into a rectangle.

Fold the rectangle in thirds. Turn dough a half turn, gather any crumbs, and then flatten back into a rectangle. Repeat twice more, folding and pressing dough a total of three times.

Roll out dough on a floured surface to about 1/2 inch thick. Use a 1 1/2 inch round or square biscuit cutter to cut biscuits. Reroll any scraps of dough to cut more biscuits.

Transfer biscuits to prepared baking sheet. Brush tops of biscuits with melted butter.

Bake in preheated oven until biscuits are flaky and golden brown, about 15 minutes.

These biscuits freeze well. Place 12 biscuits (layered 6 biscuits to a layer) on aluminum foil. Wrap the foil around biscuits. Wrap plastic wrap around foil and freeze for up to one week. Thaw biscuits before cutting to fill with Smithfield ham or other filling of your choice.

To make Smithfield ham biscuits: place a couple of slivers of butter on one side of cut biscuit. Spread Pommery (grainy) mustard on the other side of biscuit. Cut Smithfield ham to the size of the biscuits. Top the bottom side of the biscuit with Smithfield ham and place top side of biscuit on top of ham. Wrap filled biscuits with aluminum foil and warm in a 350 degree Fahrenheit oven for about 15 minutes. Serve warm.