After a huge Thanksgiving meal on Thursday, I am ready for some quick, easy dinners on the weekend. One of my favorites is a traditional Italian pasta dish – Pasta with Amatriciana Sauce. What makes it so delicious? Traditionally made with salt-cured pork jowl or pancetta, I make mine with prosciutto. Pancetta is flavorful, but it has too much fat for my taste, so prosciutto gives it that same salty pork taste without the chewy fat.
This lovely red sauce is usually served with rigatoni, but feel free to use your favorite pasta. I enjoy serving it with angle hair pasta.
My dish takes only 25 minutes to prepare. Serve with a green salad then sit back and enjoy a sumptuous meal.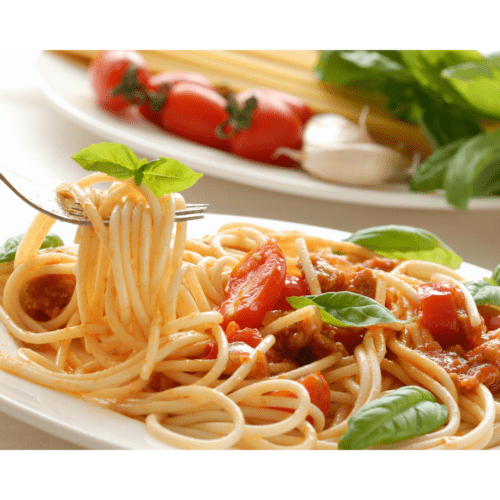 Amatriciana Sauce for Pasta
Ingredients
4

tablespoons

olive oil

8

green onions, trimmed and sliced thin

2

medium garlic cloves

1/3

cup

red onion, diced

3

ounces

Boar's Head Proscuitto, visible fat removed, chopped into small pieces.

2

teaspoons

Cavender's Greek Seasoning

1/8

teaspoon

Red pepper chili flakes

28

ounce can

Cento crushed tomatoes

1

tablespoon

granulated sugar

1/4

teaspoon

freshly ground black pepper

Pecorino Romano cheese, grated

Angel Hair Pasta or Rigatoni Pasta, cooked
Instructions
Place olive oil in a large fry pan. Heat over medium-low heat until the oil starts to sizzle. Reduce heat to low.

Add red onion to the olive oil. Heat and stir until the onions turn transparent. Add green onions, garlic clove and proscuitto.

Stir and cook until proscuitto begins to get crisp.

Add Greek seasoning and red chili flakes. Stir to combine.

Add crushed tomatoes and sugar. Stir and continue to heat over low heat for 3 minutes. Taste and add more sugar if preferred.

Add black pepper and stir.

To serve: Place warm angel hair or rigatoni in warmed pasta bowls. Sprinkle with Pecorino cheese. Serve immediately.