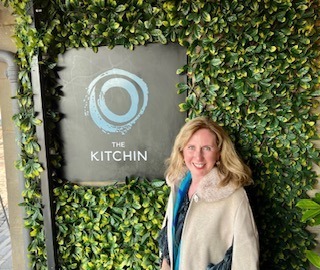 The Kitchin in Edinburgh, Scotland is absolutely magical, a Michelin Star restaurant. My husband and I recently celebrated our wedding anniversary at this acclaimed eatery.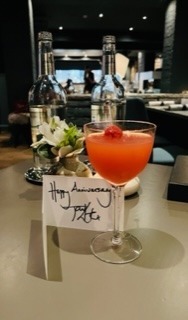 Upon our arrival we received a personalized "Happy Anniversary" card from the owner and executive chef, Tom Kitchin. Tom became Scotland's youngest Michelin Starred Chef-Proprietor, having achieved the accolade when he was only 29.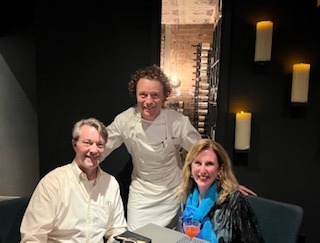 Pictured above: Tom Kitchin (center), Lou (left) and Becky (right).
My husband, Lou, always finds the most fabulous restaurants to surprise we with when we travel. The Kitchin is located in a converted whisky bonded warehouse in Edinburgh's old dock area of Leith. Designed around the original stone and wood features, the dining room is intimate, cozy and relaxed.
Husband and wife team Tom and Michaela Kitchin are the proprietors.
We watched the Chef and his team through a glass window in the main dining room.
That evening we enjoyed the "Chef's Surprise Tasting Menu". Since it was a "surprise" menu, we did not know what the courses would be until they were served to us.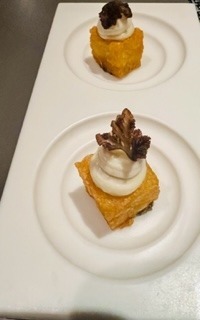 We enjoyed a lovely amuse-bouche prior to our first course.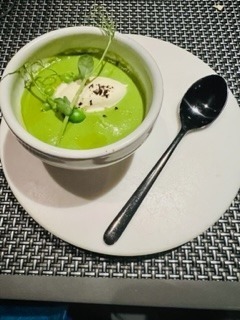 The first course was Chilled Velouté of pea and Free Company Farm lovage, cultured cream, fresh garden peas.
The Maître d' provided us with a small map to show us where all of the local ingredients were sourced in Edinburgh and surrounding areas.
The Velouté was paired with Philipponnat Reserve Champagne.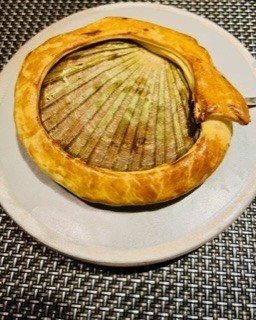 The second course is Chef Kitchin's signature dish. (We did check beforehand to make sure that this signature dish was on the "surprise" menu.) Scallop Shell, hand-dived Orkney scallops baked in the shell, seasonal vegetables, white wine, vermouth and herb sauce.
The scallops are removed from the scallop shell. A white wine sauce is prepared with shallots, vermouth, fish stock, whipping cream, fresh dill and tarragon. The scallops are placed back in the shell with some of the white wine sauce and the top of the shell is placed back on the bottom shell. Puff pastry is gently placed around the shells to seal the two shells together. The puff pastry is brushed with egg wash and baked in a hot oven for 10 – 15 minutes.
When the scallop is served at the table, the server opens the shell allowing the steam to escape and the most delightful aroma of scallops and wine fills the guests senses.
Wine pairing: Alicante Bouschet, Terra D'Alter, Alentejano, Portugal, 2020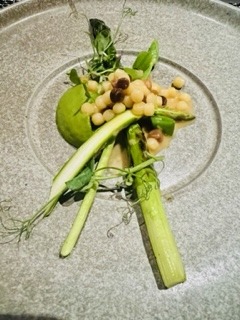 Third course: Steamed Eassie Farm asparagus, fregola and spring vegetables. Fregola is a type of pasta from Sardinia. It is similar to Israeli couscous.
Wine pairing: 'Horsmonden', Davenport Estate, Sussex, England, 2021. An unexpectedly fabulous white wine that paired magnificently.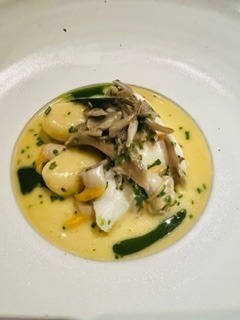 Fourth course: Steamed North Sea halibut, hen of the woods mushrooms, West Coast cockles, wild garlic, gnocchi.
Wine Pairing: Côte du Rhône Cesar, Domaine Roche-Audran, Rhône Valley, France 2021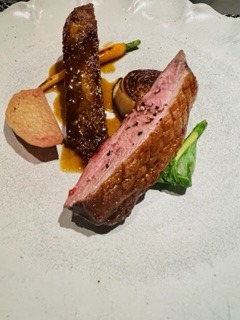 Fifth course: Roasted breast and confit leg of St Brides Farm duck, kohlrabi, rhubarb, duck jus.
Wine pairing: Saumur-Champigny 'Fruit', Domaine Thierry Germain, Loire Valley, France 2021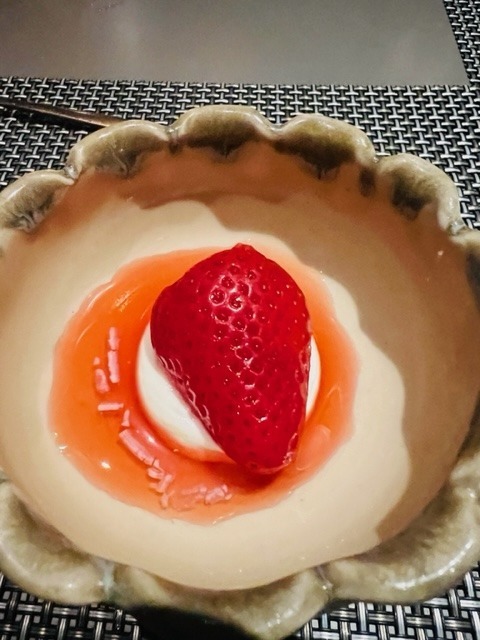 Sixth course: Knockraich Farm crowdie, Blacketyside Farm strawberry consommé. (Crowdie is a type of soft, fresh cheese made from cow's milk, traditionally from Scotland).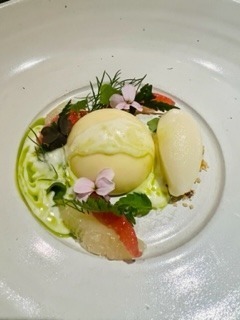 Dessert course: White Chocolate and Wild Herbs. White chocolate mousse, citrus fruits, Gerry's wild herbs, yuzu sorbet.
Wine pairing: Muscat de Rivesaltes, Domaine des Schistes, Languedoc-Roussillon, France 2021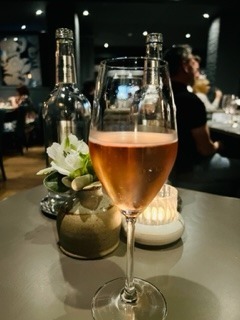 When we arrived, we were asked if we preferred our champagne prior to the meal or with dessert. We wisely chose to have our champagne to savor with dessert.
After dinner we were served lovely homemade petit fours to savor with our champagne.