Pickled shrimp with red bell pepper, crisp celery and red onion is the perfect appetizer for warm summer evenings. Enjoy this dish as a luncheon salad too. So easy to prepare and make ahead too. I added my favorite pepper sauce to my recipe: Clark and Hopkins Chesapeake Bay Artisan Pepper Sauce. It's made in Richmond, Virginia. This pepper sauce is not just "hot sauce", it has layers of fresh jalapeño flavor, with ginger, mustard and a myriad of spices that is perfect for spicing up so many dishes. I always have a couple of jars in my refrigerator. Available on-line and locally at Wine Gourmet.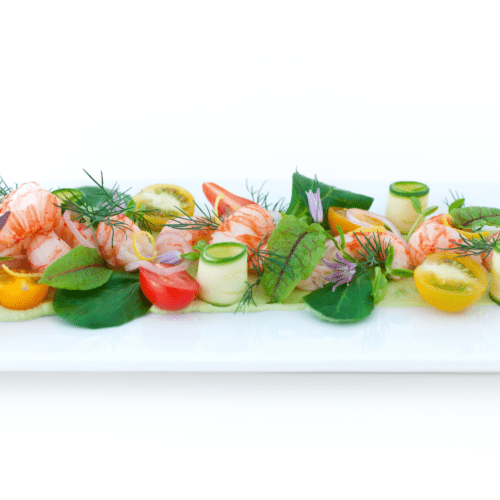 Pickled Shrimp
These tasty shrimp require marinating in the refrigerator for at least 4 hours or overnight.
Ingredients
1

pouncd

21-25 count shrimp

3

celery sticks

1

red bell pepper

1/2

small red onion

2

tablespoons

Clark and Hopkins Chesapeake Bay Pepper Sauce or your favorite medium heat pepper sauce

2

TB

White balsamic vinegar

1/8

cup

pickling spice

1

TB

nonpareil capers

1/4

tsp

dry mustard

3

TB

chopped fresh dill

2

TB

vegetable oil

1 1/2

tsp

Paul Prudhomme's Blackened Redfish Magic seasoning

1

TB

Old Bay seasoning

1/2

lemon
Instructions
Cook shrimp. Allow to cool and then peel and devein the shrimp, remove tails.

Cut celery sticks into fourths, then cut into thin strips.

Core bell red pepper and remove seeds. Cut in half, then cut into thin strips.

Cut red onion into thin strips.

Place shrimp, celery, red bell pepper and red onion in a large bowl. Toss to combine.

Add pepper sauce, white balsamic vinegar, pickling spice, capers, dry mustard, dill, vegetable oil and red fish seasoning to shrimp. Toss to combine. Cover bowl and place in refrigerator for 4 hours or overnight.

Just before serving, sprinkle shrimp with Old Bay seasoning and squeeze lemon over shrimp. Toss well before serving.