My go to holiday appetizers are quick and easy and SO TASTY! I promise your guests will love them! Happy Holidays!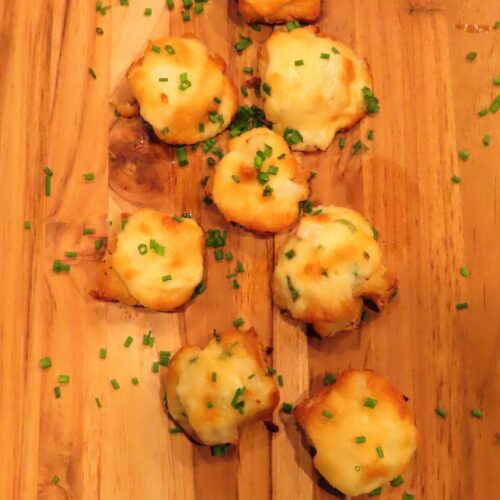 Palm Beach Cheese Puffs
Ingredients
10

white bread slices

1/2

stick

butter, melted

1/4

teaspoon

garlic powder

3/4

cup

mayonnaise

1/2

cup

Parmesan cheese

1

tablespoon

onion, minced

1

tablespoon

minced fresh chives

Minced fresh chives for garnish
Instructions
Preheat oven to 375 degrees Fahrenheit.

With 1 1/2 inch round cookie cutter, cut rounds out of slices of bread.

Add garlic butter to melted butter.

Place bread rounds on baking sheet and brush with butter.

Bake bread rounds in oven for 15 minutes until golden. Remove from oven and cool.

Mix mayonnaise, cheese, onion and chives in a small bowl.

Place heaping spoonful of mayonnaise mixture on each round.

Bake for 6 – 8 minutes or until the tops turn golden brown. Place on serving plate and sprinkle with minced chives. Serve hot.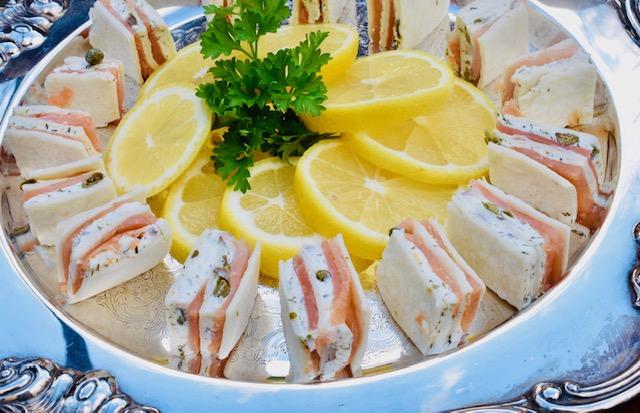 Smoked Salmon Tortilla Bites
Ingredients
8

ounces

cream cheese, softened

3

tablespoons

finely chopped fresh dill

2

tablespoons

finely chopped red onion

2

tablespoons

non-peril capers

1

teaspoon

fresh lemon juice

Zest

1 small lemon

3

burrito size flour tortillas

8

ounces

smoked salmon

Chopped fresh dill and lemon slices for garnish
Instructions
Place cream cheese in mixing bowl.

Add dill, red onion, capers and lemon juice. Stir with rubber spatula to combine all ingredients.

Place one tortilla on a baking sheet.

Spread one-half of cream cheese mixture on the tortilla, spreading cream cheese all the way to the edges of the tortilla.

Place 4 ounces smoked salmon evenly on top of the cream cheese.

Place the second tortilla on top of the smoked salmon and press lightly.

Spread the tortilla with the rest of the cream cheese and top with the remaining 4 ounces of smoked salmon.

Top with the third tortilla, pressing lightly.

Cover with plastic wrap and refrigerate for one to two hours or until thoroughly chilled.

Remove baking sheet from refrigerator and uncover.

Cut tortilla into fourths. Cut each fourth into 10 small squares. Place tortilla squares on a serving plate.

Sprinkle with chopped fresh dill and garnish plate with lemon slices. Serve chilled.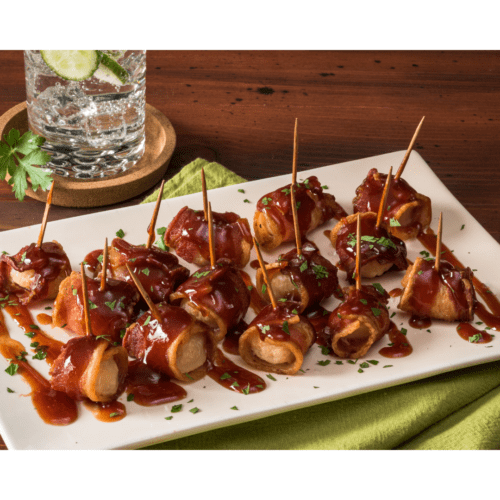 Bacon Wrapped Water Chestnuts
Ingredients
2

cups

ketchup

1

cup

packed light brown sugar

2

tablespoons

Worcestershire sauce

1

pound

bacon

2 (8 ounce)

cans

whole water chestnuts, drained
Instructions
Preheat oven to 375 degrees Fahrenheit.

Combine ketchup, brown sugar and Worcestershire sauce in a mixing bowl.

Cut bacon strips in half. Wrap one half slice of bacon around each water chestnut and secure with a toothpick. Arrange water chestnuts in a 9" x 13" baking dish.

Bake in preheated oven for 10 – 15 minutes. Watch carefully to make sure bacon grease does not splatter in oven.

Remove water chestnuts from the oven. Drain off some of the bacon grease from the baking dish.

Pour ketchup mixture evenly over the water chestnut wraps.

Bake until bacon is crispy and sauce thickens, 30 – 35 more minutes. Watch carefully so bacon does not burn and bacon grease does not splatter in oven.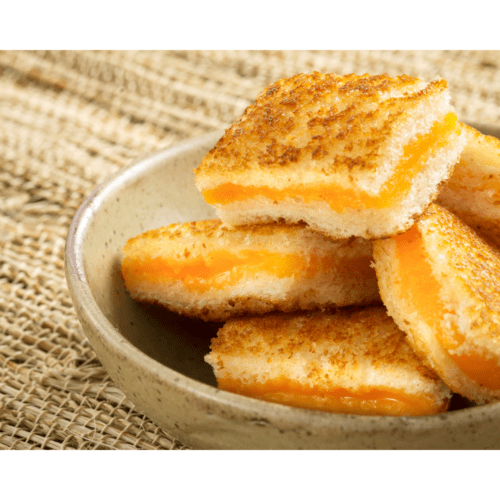 Cheese Dreams
Ingredients
2

cups

finely grated sharp cheddar cheese

15

slices

crisp bacon, cut into fourths

1

cup

butter, softened

2

tablespoons

heavy cream

1

large egg

1

teaspoon

Worcestershire sauce

1/2

teaspoon

salt

1/2

teaspoon

dry mustard (available at Fresh Market in the spice section or labeled "ground mustard" at Kroger in the spice section)

2

tablespoons

Clark and Hopkins Chesapeake Bay Pepper Sauce (available at Wine Gourmet or on-line)

1

16 ounce package

firm white sandwich bread slices (such as Pepperidge Farm sandwich bread)

Spanish paprika
Instructions
Preheat oven to 375 degrees Fahrenheit.

Place cheese and butter in a mixing bowl. Beat at medium speed with an electric mixer until blended. Beat in heavy cream and next 5 ingredients.

Cut crusts from white bread slices; cut each bread slice into 4 squares.

Spread cheese mixture on half of bread squares (about 1 teaspoon per square).

Top the cheese mixture with 2 small pieces of bacon and top bacon with remaining bread squares to make petite sandwiches.

Spread remaining cheese mixture over top of sandwiches.

Place sandwiches 1 inch apart, on a lightly greased baking sheet. Sprinkle lightly with paprika.

Bake at 375 degrees F. for 12 – 15 minutes or until golden brown. Serve warm.