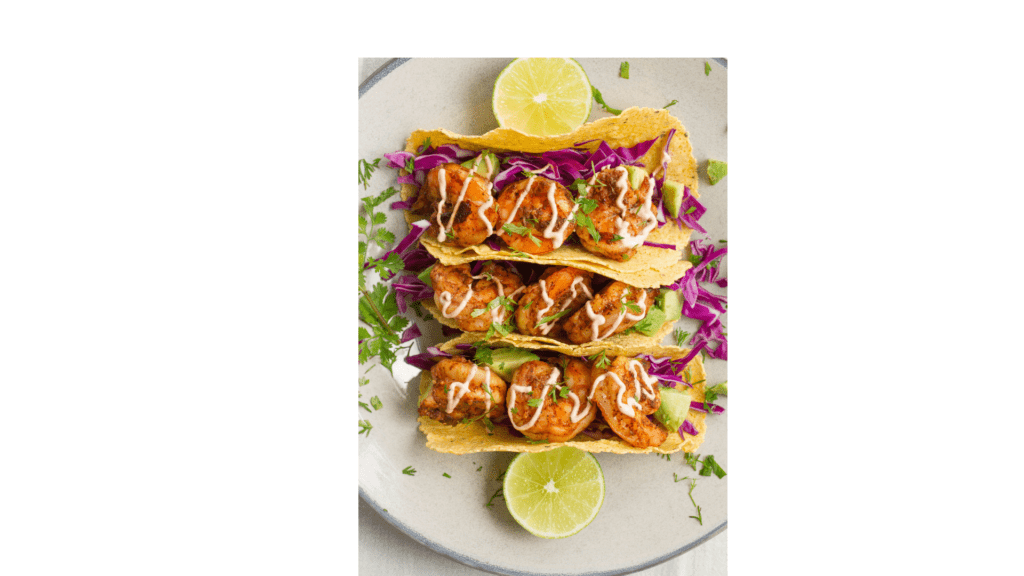 Celebrate Cinco de Mayo on May 5 with my Spicy Chili Shrimp Tacos and Pink Lemonade Blackberry Margaritas. My shrimp tacos are surprisingly easy to make – especially when you purchase shelled and deveined shrimp. Sure to impress your guests on this special day of celebration!
Spicy Chili Shrimp Tacos with Baby Bok Choy Slaw and Pickled Red Onion
Equipment
5 sets taco server trays

to help tacos stand up for service
Ingredients
1 1/2

cups

white wine vinegar

1

TB

sugar

1 1/2

tsp

salt

1

medium

red onion thinly sliced

1

TB

pickling spice

1/2

head

red cabbage

1

head

baby bok choy

1

carrot, peeled

2

TB

white wine vinegar

1/2

cup

mayonnaise

1/2

tsp

salt

1/2

tsp

celery seed

1/2

tsp

freshly ground black pepper

15

6 inch

flour tortillas

1 1/4

pound

frozen shrimp (16-20 count, peeled and deveined), thawed

3/4

cup

flour

3

tsp

Old Bay seasoning

1/3

cup

vegetable oil

1/2

cup

Asian sweet chili sauce

1/2

lime, juice and zest
Instructions
To make pickled red onion: Whisk white wine vinegar, 1 1/2 tsp. salt and 1 cup water in a small saucepan. Heat over medium heat and stir until sugar and salt dissolve. Remove from heat. Add pickling spice, stir. Place onion in a mason jar (large enough to hold all of the liquid) pour vinegar mixture over. Let sit at room temperature for 1 hour. Cover and chill in refrigerator. Drain onions before using.

To make baby bok choy cole slaw: Shred red cabbage and place in a mixing bowl. Chop baby bok choy and add to cabbage. Grate carrot and add to cabbage mixture. Combine white wine vinegar, mayonnaise, salt, celery seed and black pepper in a small bowl. Pour the vinegar mixture over the cabbage mixture and toss to combine all ingredients. Chill until service.

To make shrimp tacos: Preheat oven to 350 degrees Fahrenheit. Wrap stacks of 5 tortillas in aluminum foil Warm the tortillas in oven for 10-15 minutes. Keep warm while preparing shrimp.

Peel and devein shrimp (easiest way is to purchase peeled and deveined shrimp). Remove shrimp tails. Place flour and Old Bay seasoning in a plastic bag. Seal bag and shake to combine the flour and seasoning. Add shrimp to the bag and shake to cover the shrimp with the seasoned flour.

Place oil in large sauté pan. Heat oil over medium high heat until sizzling. Sauté shrimp in hot oil until cooked through (shrimp will be light pink). Remove from heat and allow to cool slightly. Add Asian sweet chili sauce and stir to cover warm shrimp with sauce. Drizzle shrimp with lime juice and sprinkle with lime zest.

To serve: place warm tortillas in taco serving trays. Place 2 shrimp in center of each tortilla. Top with baby bok choy coleslaw and pickled red onions.
Forget the premade margarita mixes and make your own signature margaritas. Make ahead and pop these tasty margaritas in your freezer so they will be ready when you Cinco de Mayo celebration begins!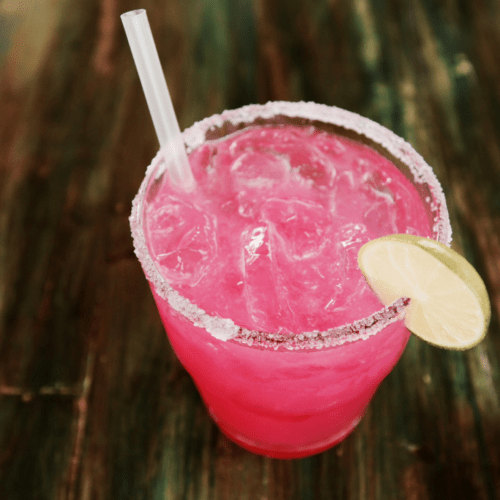 Pink Lemonade Blackberry Margarita
When you finish drinking your Pink Lemonade Margarita, you get to eat the blackberries that have been soaking in the margarita – YUM!
Ingredients
12

ounce can

frozen pink lemonade, thawed

use empty lemonade can to measure water, tequila and orange liqueur

1

can

water

1

can

tequila blanco

1/4

can

triple sec

splash

Rosé champagne or sparkling wine

blackberries and thin lime wheels for garnish

lime wedges and fine sugar to rim margarita glasses
Instructions
Rub rims of margarita glasses with lime wedge. Place fine sugar on a plate. Roll rim of each margarita glass in fine sugar to rim the edge with sugar.

Place the pink lemonade, water, tequila and triple sec in a large pitcher. Stir with a large spoon until all ingredients are combined.

Pour margarita mixture into blender container filled with ice. Blend until ice is finely crushed.

Pour margaritas into sugar rimmed margarita glasses. Top each margarita with a splash of Rosé champagne or sparkling wine. Drop a few blackberries into the margaritas and then cut slits in some of the blackberries to set on the rim of the glasses. Place a lime wheel on top of each margarita.

Place any unused portion of this cocktail in a freezer container and place in freezer to keep cold for refills.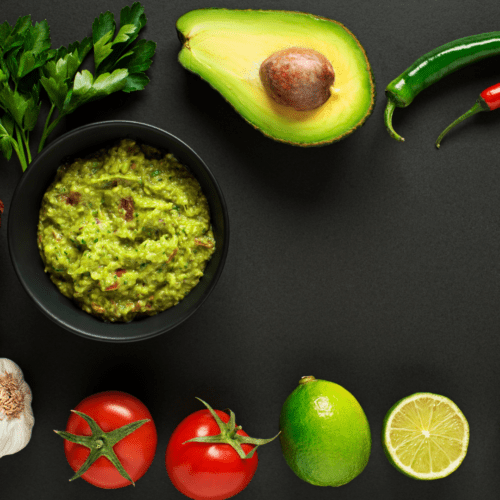 Chesapeake Bay Guacamole
My spicy guacamole contains local ingredients made in Virginia. Gunther Salsa Fresca and Clark and Hopkins Chesapeake Bay Pepper Sauce
Ingredients
4

ripe avocados, pitted and peeled

1

shallot, finely chopped

1

TB

fresh lime juice

1/4

tsp

salt

1/4

tsp

freshly ground black pepper

1/4

tsp

Spanish paprika

1/4

cup

Gunther Salsa Fresca

1/4

cup

finely chopped cilantro

1 1/2

TB

Clark and Hopkins Chesapeake Bay Pepper Sauce

Tortilla chips for service
Instructions
Place avocado in a mixing bowl. Mash avocado with a fork.

Add shallot, lime juice, salt, pepper, paprika, salsa fresca, cilantro and pepper sauce to avocado. Mix all ingredients together with a fork.

Place guacamole in a serving dish and cover tightly with plastic wrap. Refrigerate until service. Serve with tortilla chips.