Fun day at WDBJ 7 on the Here@Home show featuring Virginia-made foods and wine!
October is Virginia Wine Month…the perfect time to celebrate Virginia-made wine!
Find my recipe for Gingersnap Sangria in the September, 2022 issue of The Roanoker Magazine. Click here.
One of my favorite Virginia-made foods is AR's Hot Southern Honey and I enjoyed sharing their recipe for Stone Fruit (Apricot glazed) tarts: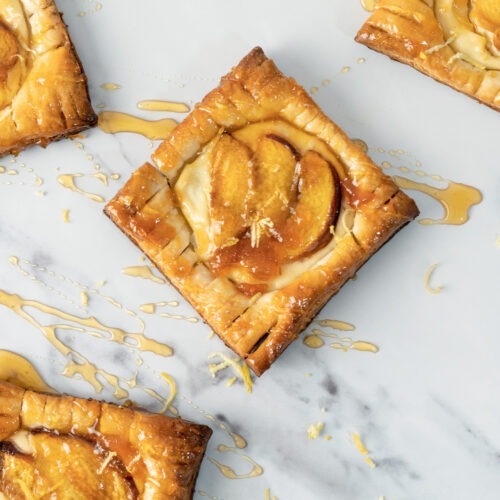 Stone Fruit Tarts (Apricot glazed tarts)
Recipe courtesy of Ames Russell of AR's Hot Southern Honey
Ingredients
1

sheet

puff pastry, thawed

at least 9 x 9 inches

1/2

cup

fresh ricotta cheese

2

tablespoons

AR's Hot Southern Honey (mild), divided plus more for drizzling

1

lemon, for zesting

1/2

pound

stone fruit (plums, apricots, peaches or nectarines)

3

tablespoons

apricot preserves
Instructions
Preheat oven to 400 degrees Fahrenheit.

Line a sheet pan with parchment paper.

Cut the puff pastry sheet into four 4 1/2 inch squares. Place on the prepared pan. Using the tip of a paring knife, lightly score a 3/4 inch border around each square without cutting through the pastry.

In a medium bowl, stir together the ricotta, 1 tablespoon of the honey and the lemon zest from half of the lemon. Dividing evenly, spread the ricotta mixture within the borders of each puff pastry square.

Slice the stone fruit into thin wedges. Lay the fruit over the ricotta mixture.

Bake for 20 – 23 minutes, until the puff pastry is golden brown.

In a small skillet, combine the apricot preserves and remaining 1 tablespoon honey over medium heat. Let come to a boil. Remove from heat and brush over the tops of the warm tarts to add flavor and shine.

Serve warm or at room temperature with hot honey for drizzling.
Clark and Hopkins Artisan Pepper Sauces are my favorite "hot sauces" and I add their sauces to most all of my savory dishes. Here's my recipe for delightful marinated grilled shrimp.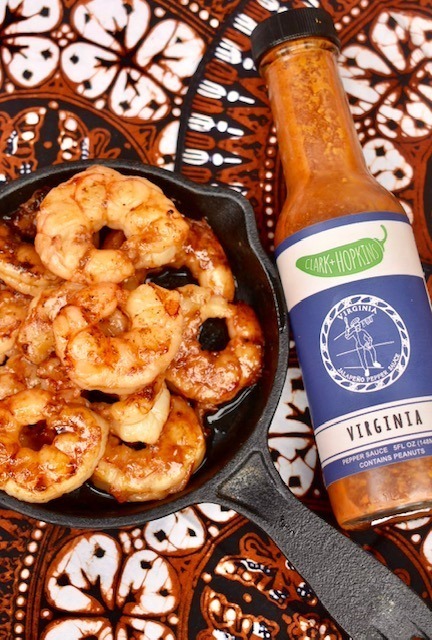 Virginia Pepper Sauce Marinade for Shrimp
Multiply this recipe by 2x to make 24 shrimp.
Ingredients
3

tablespoons

vegetable oil

2

tablespoon

Clark and Hopkins Virginia Pepper Sauce

6

tablespoons

light brown sugar

12

extra large peeled and deveined raw shrimp
Instructions
In a mixing bowl, combine vegetable oil, pepper sauce and light brown sugar.

Place shrimp in a plastic storage bag. Pour the marinade over the shrimp. Seal bag. Shake bag gently to cover shrimp with marinade.

Place sealed bag in refrigerator overnight. Shake the bag to coat shrimp once during the marinating process.

Brush a cast iron grill pan lightly with vegetable oil.

Heat the pan until the oil is sizzling. Place marinated shrimp in a single layer on the grill pan.

Cook shrimp for a minute or two over medium-low heat, then turn and cook on the other side. The shrimp will be pinkish and opaque with some nice grill marks. Watch shrimp carefully so they do not burn as they cook. Move the shrimp in the center of the pan to the outer rim of the pan while moving the outer ones to the center to allow them to completely cook, since the center of the pan is the hottest area.
Find Virginia-made foods in your favorite gourmet and kitchen shoppes, local farmer's markets and orchards and on the products websites on-line.
Here are some of my favorites:
AR's Hot Southern Honey, made in Richmond, Virginia. Available locally at Ladles and Linens Kitchen Shoppe, downtown Roanoke. Ames Russell of AR's Hot Southern Honey recently published his cookbook "The Hot Honey Cookbook" – 60 recipes to infuse sweet heat into your favorite foods. Find it here.
Potters Farmhouse Dry Craft Cider, made in Charlottesville, Virginia. Make my Gingersnap Sangria with this fun, slightly effervescent flavorful hard apple cider. Available locally at Gladheart Wine and Brews.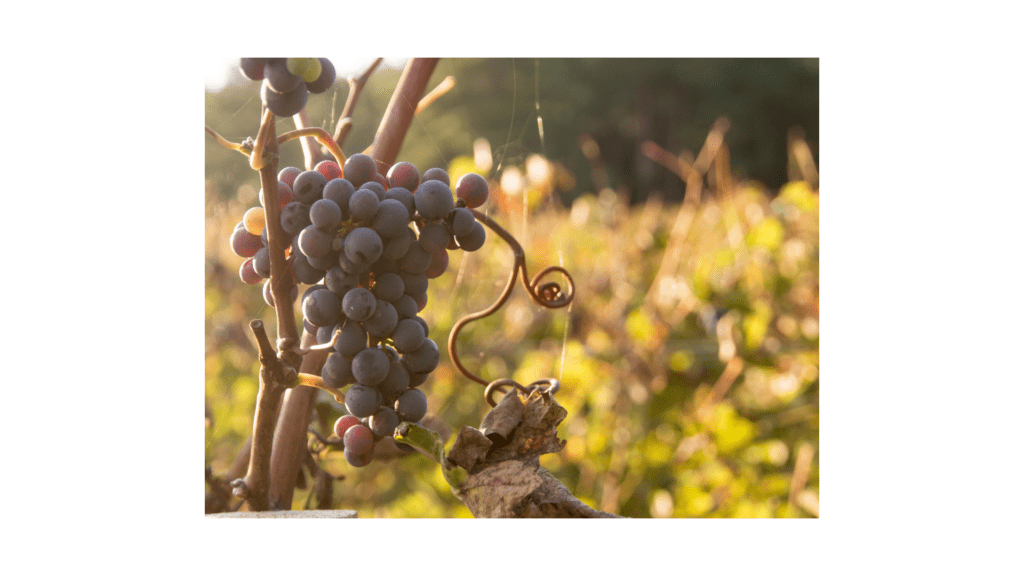 FIZZ. Virginia sparkling wine. Grapes harvested from Monticello, Virginia. Notes of apple and peach. Sold at Wine Gourmet.
Clark and Hopkins Artisan Pepper Sauce – Virginia and Chesapeake Bay pepper sauces are my favorites. Made in Richmond, Virginia. Fabulous on grilled shrimp, and gives a fabulous zing of flavor to chili, marinara sauce and hamburgers. Available locally at Wine Gourmet.
Route 11 Potato Chips. Kettle cooked potato chips made in Mount Jackson, Virginia. Sold locally at Gladheart Wine and Brews.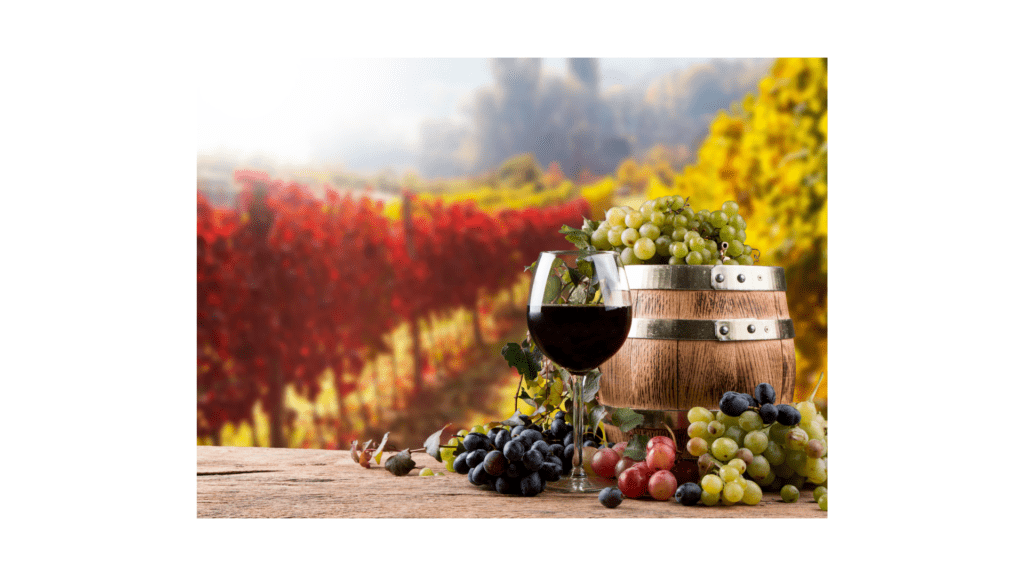 Jonno's Worcestershire Sauce. Use as a marinade, seasoning or dipping sauce. Made with Virginia apples in Crozet, Virginia. Delightful on grilled salmon or chicken, in salad dressings and hamburgers. Available locally at Wine Gourmet.
Scratch Pasta. Made in Lynchburg, Virginia. Sold at Ladles and Linens Kitchen Shop and the Roanoke Natural Foods Co-Op.
Peg's Salt. Made in Staunton, Virginia. The perfect finishing salt made with 18 spices. Available at Wine Gourmet.
Homestead Creamery Ice Cream. Made in Wirtz, Virginia. Sold at Kroger.