Recently I discovered Fresh Press Farms Olive Oil – fabulous cold pressed olive oil in the most beautifully decorated aluminum bottles. Made in the USA – Fresh Press Farms is in Georgia – over 3,500 acres with over 3.2 million olive trees. I couldn't wait to share this lovely oil with friends, so I offered up an olive oil tasting as our appetizer before dinner. These gorgeous bottles make fabulous hostess gifts too!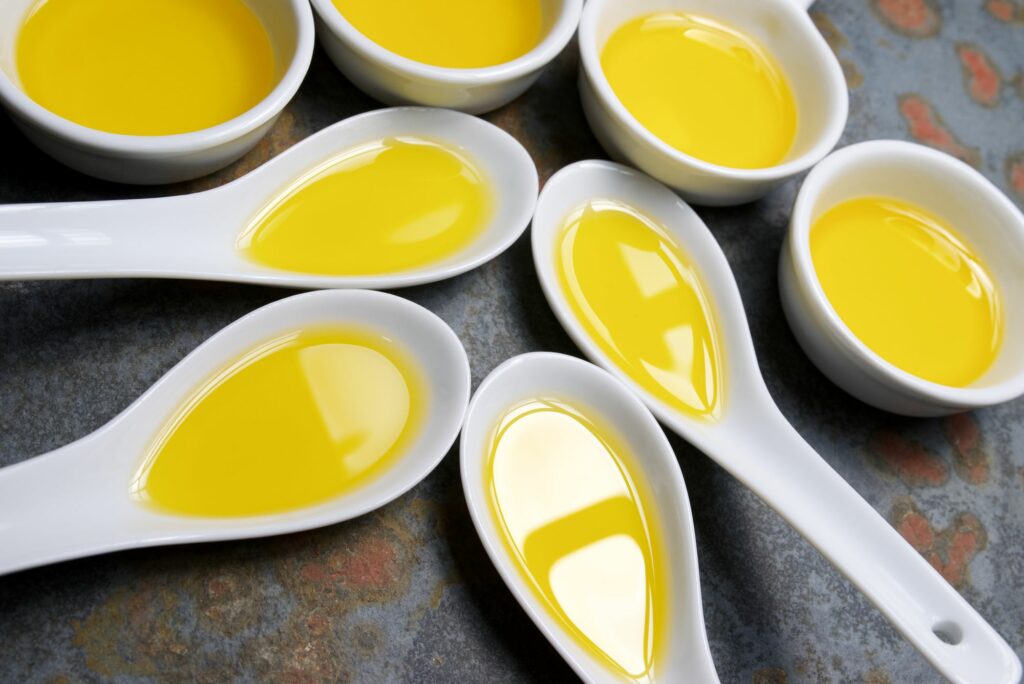 I used my appetizer spoons to serve the olive oil samples, labeling them with a wine glass marker – 1 thru 4. Starting with the mildest oil first – #1 Mild, #2 Sunflower Oil, #3 Classic, #4 Bold. Each guest had 4 spoons placed in front of them.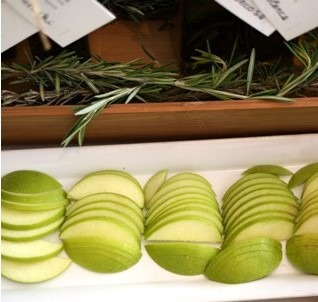 As a palate cleanser, I offered Granny Smith Apple slices. Very tart!
I also served freshly baked baguette and slices of focaccia to serve along with herb olive oil for dipping after the tasting: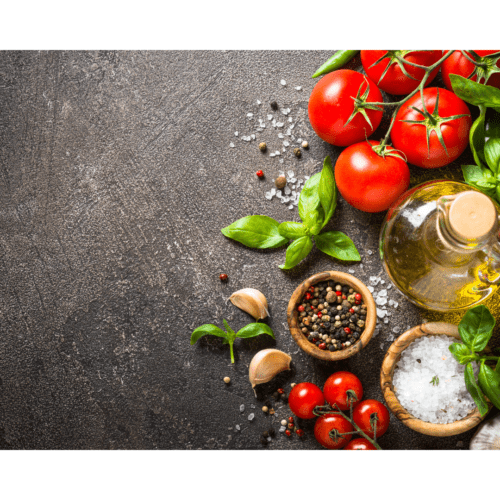 Herb Olive Oil
Ingredients
3/4

cup

Fresh Press Classic Olive Oil

6

chives, snipped

.5

ounce package

fresh dill, stems removed, snipped

1

teaspoon

Peg's Pink Salt

1/2

teaspoon

freshly ground black pepper

1/2

teaspoon

fresh thyme leaves

zest

one

lemon

Baguette or focaccia slices for serving
Instructions
Place olive oil in a bowl.

Add chives, dill, salt, pepper, thyme and zest of one lemon. Stir to combine all ingredients.

Serve with baguette or focaccia slices for dipping.
Fresh Press Farms Sunflower Oil was a nice addition to our tasting. It has a light and fresh taste and aroma of sunflowers. It has a high smoke point – 450° F., so it is perfect for searing- and sauteing and delightful in a Proscuitto and Fig Salad with White Balsamic Vinaigrette .